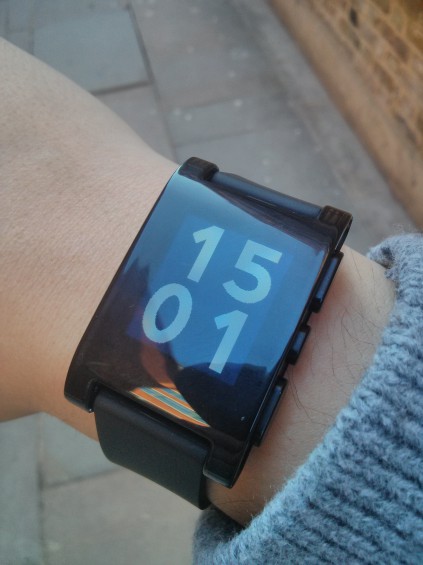 Ok, it's finally here! The last post I made about the Pebble was back in January where I roughly estimated that we'd have our Pebbles with us by the end of March, so my estimate seemed pretty realistic.
Those that backed the Kickstarter project are more than familiar with the ispebbleshipping.com site and even more familiar with the four step order status screen where (for me and other members of the Coolsmartphone team) it has been stuck on any one of those points for longer than you could bare in anticipation.
It had got to the point where I had set up a page monitor on that screen as I was visiting it way too much, even with the page setup I was still checking periodically. I had a notification this morning saying the page had changed (to shipped) I was pleasantly surprised (and half expecting at the same time) to have a package turn up for me today.
So, to the unboxing……
First impressions are it's nicely packaged (it's a box! I'm not going to go on about a box) with minimal detail on the box and go.getpebble.com as the only instructions where you are prompted to install the app for your phone.
Turn the watch on by pressing any button then pair it with your iPhone or in my case Android phone, it then updates the firmware if needed and you're ready to go start telling the time!
If you're not familiar with the Pebble watch its basically an ePaper display watch that you pair via Bluetooth to your smartphone. Via the Pebble application you can get for Android and iPhone you have a selection of watch faces you can load onto it. I have played around with all of them and I think I like the BigTime one the most
The watch faces are changed by opening up the options (middle button on the right side of the watch) and navigating your way through them and select the one you want with the middle button.
I found the navigation around the watch really intuitive and it now feels like second nature to me to go change a watch face or go through the settings.
On the build quality, well it's a plastic watch and you can feel the springs in the buttons when you use them; there's a bit of give on them if you don't push the button dead centre, I'm not sure how they will wear over time but I'm not overly concerned about it. It has also been well publicised that the screens scratch easily even though they are meant to be scratch resistant, I have a screen protector from bestskinsever.com which has been applied now I'm home
What I have found odd is that the screen is always on, it's meant to be, but I'm instinctively expecting it to go off for some reason, also the music controls where you can play/pause skip forward and back tracks stays on that screen, again why shouldn't it? I don't know I just expect it to tell the time but it's just showing me what track is playing.
The music controls are pretty basic I'd like to be able to search through tracks using a long press maybe and there is no volume control.
When I got home and gave my wife her one she discovered the backlight flick move where you flick your wrist and it turns on the backlight, nice.
I used to have quite a chunky watch prior to owning a Pebble so it doesn't feel that big on my wrist, it is really light though which I'm not used to yet.
As of yet there is still no RunKeeper integration. One of the main reasons I went for this was to use it as a running aid, although it's still going to be good for me with the music controls for running.
Overall I'm happy with it and looking forward to using it day in day out, I'm also looking forward to getting a look at the SDK. If you have any questions leave them below.