Oh no this is not good news for HTC and their new flagship phone, the HTC One.
Clove have just announced that the launch date has been delayed until 29th March and on checking the Three UK website just now their date has also changed to later, this time the 30th March.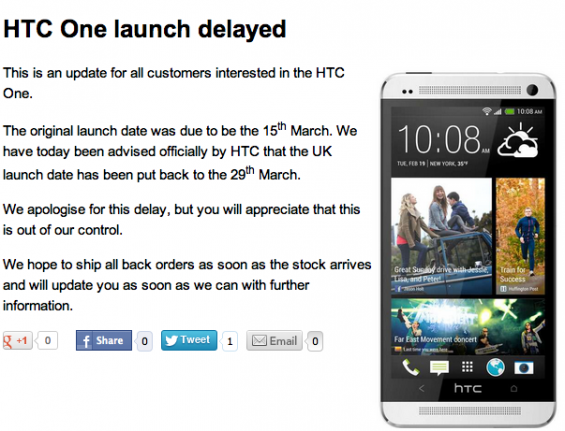 The HTC One was due to go on sale on the 15th March (this Friday) and this last minute delay will not be good news for customers who are eager to get hands on this impressive new flagship.
What makes this timing even worse is that Samsung will be announcing their new flagship the Galaxy S4 this Thursday and we have seen reports today that EE plan to start selling it as soon as the 28th March.
With the focus firmly on the S4 announcement at the moment, this delay could now have come at a worse time for HTC.
One of our readers (Rik Webb) has also just posted news from Amazon
oh dear – here we go – Amazon message:

HTC One Stock Update
Please note–Due to
demand, the release date for the HTC One has been moved to March, 29. Orders
taken before March, 13 will be fulfilled as soon as possible after the release
date of March, 29. Further orders are expected to be delivered in the following
week.
We have a HTC One in for review at the moment so until then check out our coverage.
UPDATED – The Three site shows 15th March still for the Silver whilst the Black model is now 30th April