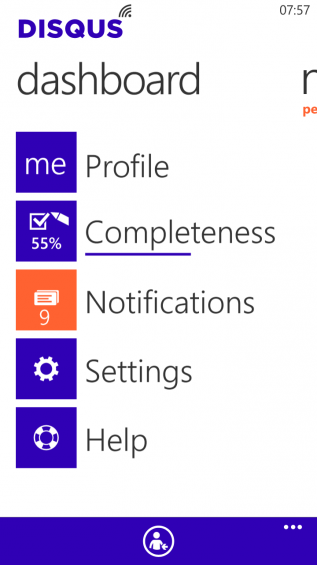 Lots of you are probably familiar with the Disqus comments system, which powers comments on many sites including Coolsmartphone.com
Well Disqus have developed their own app in house, and it's exclusive to Windows Phone.
The app has some great features, allowing you to:
Get notifications on threads you have commented on
Follow other Disqus users, so you can be alerted to their new comments
Discover other Disqus users
Actively respond and add to comments and threads you have made or had replies to
Set up Live tiles
Moderate comments on sites you administer
In all its very comprehensive for version 1.0 and great to use.  It's expanding Disqus' concept of a commenting community, and it does it very well.
Now about that exclusivity – yes, it's Windows Phone only, and so far there are no firm plans to bring it to other ecosystems. So a bit of a coup for Windows Phone, although it may stunt its growth if it remains solely Windows Phone.
There are a few screenshots after the break and a link to the app below – if you use Disqus and have a Windows Phone you should definitely give it a go.
Link – Disqus app in Marketplace
Source – WPcentral 
Some screenshots of the app