MWC is done and dusted for another year, HTC have made their big announcements which now means that it is of course Samsung's turn.
With the fact that the Galaxy SIV event is being held on the 14th March in New York already having been made public, Samsung have now posted their first teaser video on Youtube.
http://www.youtube.com/watch?feature=player_detailpage&v=dIEfNaNCkKM
Also posted on Twitter was the following image which confirms that there will be a public live stream of the event as well as a newly announced event taking place in Times Square at 7pm on 14th March.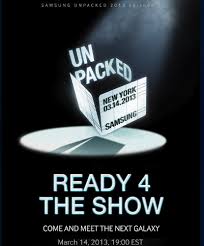 After last years London event, this years looks to be even bigger and Samsung will no doubt be whipping up more frenzy and excitement amongst the faithful before next Thursday!
Are you looking forward to the Samsung Galaxy S IV or is it just another launch?  Let us know in the comments below