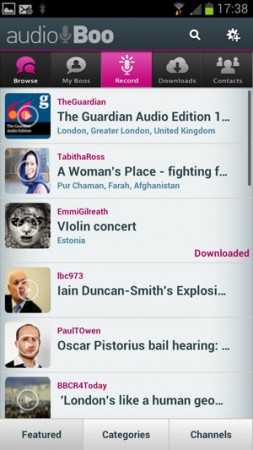 Having relaunched their web platform earlier this year, social sound platform Audioboo have turned their attentions to their Android app.
The app revamp means it now includes a more visually-appealing and easier to navigate user interface; it has options to download clips and listen to audio offline; the search options are more intuitive and recently introduced Boo Boards are supported. Overall the app now supports an improved functionality of the platform as a whole.
Speaking of the app, Audioboo's CEO Rob Proctor commented:
"A new, improved Android app is the latest in a line of exciting activities that Audioboo has been working towards for 2013. It's been a fantastic few months for us, and our community is growing by thousands of users every day. I'm happy to announce that those with an Android device can now have on-the-go access to all our new features and the huge range of content that Audioboo has to offer. We have been aware that our previous Android app didn't quite hit the mark, so it's great that immediate feedback on the newly developed software has been very positive."
The new app can be found by downloading 'Audioboo Two Beta' from Google play. Audioboo have suggested that users remove the old Audioboo Android app from their device before installing the new one.