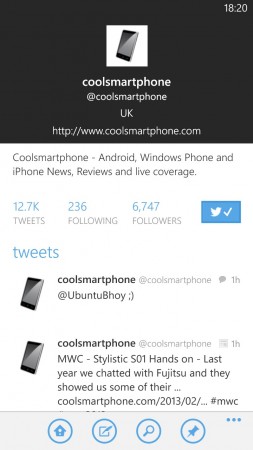 I absolutely love Twitter – it's probably what I waste most of my 8X's battery using. I've always felt that the official Windows Phone Twitter app was terrible to use, so I turned to paid for clients instead. However the official app has had a redesign and update and I am seriously impressed!
One of the big improvements in my eyes is that you can now pin a Twitter account or even a tweet to your Live Tiles – so say you want to keep up with all the latest and greatest tech news from us (@coolsmartphone hint hint); simply pin us to your homescreen and you can catch up on our tweets with ease.
The look of the Windows Phone Twitter app is vastly better too. As with the iOS and Android versions you now have the four headers at the top of the app (home, connect, discover and me). When you click a tweet, the tweet and other information is integrated better too giving an all round more impressive user experience.
Here's the best thing though; the tile for Twitter can now be pinned at jumbo size as well as the half and quarter size – so for us Twitter fanatics Twitter can take over our phone's even more.
The update is available to download in the app store now.