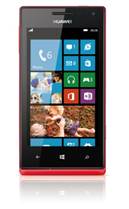 So, remember the Huawei Ascend W1? Of course you do. We already knew that it was set to arrive on O2 soon, but we didn't know exactly when until just now. O2 UK have bagged the exclusive on this cheap Windows Phone 8 handset and we gave it a try last night.
The price? How does a mere £119.99 on prepay grab you? On contracts that works out at just £13.50 per month and makes this a bargain-basement Windows Phone. Huawei state that they are the ones bringing "Windows Phone to the masses" (not those Nokia people) and you can buy this handset in either "electric blue " from March 7th or .. err.. "electric pink" from March 18th.
We gave it a spin last night and it seems to operate very smoothly. The 5 megapixel camera did struggle somewhat but for less than £120 on Pay and Go it seems like a very well built device. It has a 4″ IPS LCD screen (480×800) and a 1.2GHz dual-core Qualcomm CPU with a graphics co-processor. Huawei have also added a 1950mAh battery and it has 4GB of memory with an additional 32GB available through the microSD card slot.
Now I have to say, after spending a whole day here and walking around the halls, Windows Phone devices are sparse to say the least. There's no Windows Phone stand, no Microsoft stand and the only Windows Phone handsets we've seen were on the Nokia stand until now.
Full press release below..