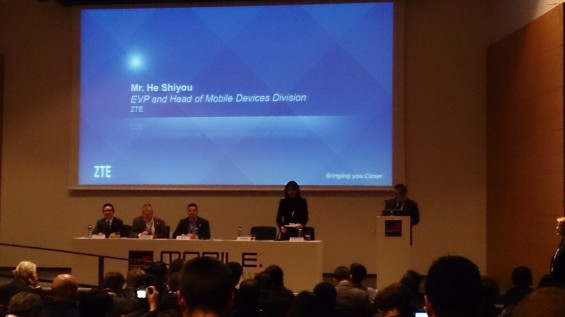 The press sit on the floor whilst rigid ZTE bosses sit behind a giant desk. It's a ZTE press conference, no mistaking that.
Either side of the stage, models in short white dresses stand looking a little confused. The top brass announce to us through interpreters that "we are the fourth largest and have a good profitability but we still have a long way to go". That last part was uttered twice within the launch, which didn't fill the assembled press with confidence.
The Grand Memo was then introduced – it has Dolby Sound but, although we saw the video, the audio was a mass of white noise. Reporters started to chuckle awkwardly and the models started running across the room inexplicably.
Their new device, which has a 5.7″ screen has a Qualcomm 1.5GHz 800-series quad-core CPU and is remarkably thin. It also has a power manager, software manager and ensures that the phone is safe. ZTE Drive is included – this makes the phone usable in the car a lot easier.
"Great screen, great sound. The Grand Memo delivers this." It also has a 13 megapixel camera, HD 1080p video recording and supports 5GHz WiFi. They've looked into comfort too – ensuring that the phone is usable with the span of your thumb and making the dialer easy to reach one-handed. The OS wasn't mentioned during the announcement, so we assume it's some sort of Android OS. We'll add further details when we have them.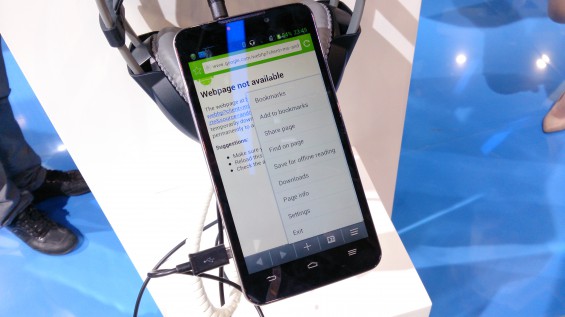 But then, the laughing stopped. For a moment there we all forgot just how big this company has become and, despite the rather formal approach, they knocked us all flying by announcing the first phone to use the Firefox OS – the ZTE Open. At the back it has a Firefox OS logo emblazoned on the rear and it's aimed at "young people" with a limited budget. They're shooting for those coming from feature phones and they've partnered with Telefonica to launch the device.
In use on the stand, the ZTE Open failed to open anything and I couldn't really give it a good test. It was definitely at the lower end of the market, but it had vibrant colours and all the usual apps you'd expect from a more expensive smartphone. This could be the start of some extra competition for the likes of Android, especially at the lower end of the market.
We've grouped together lots of shots of the ZTE Open and the ZTE Grand Memo below. Head on to get all the action! 🙂