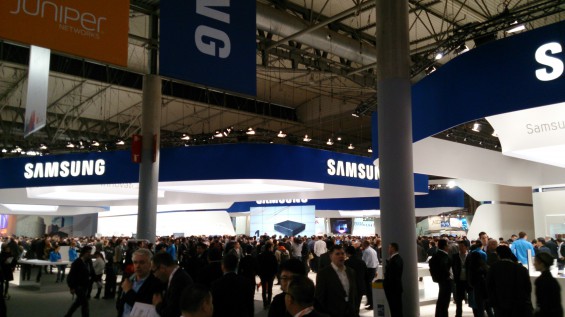 The Samsung stand this year is huge. I really mean it. HUGE. I'm sure it almost has it's own postcode and takes up around a quarter of one of the halls. The picture above doesn't really do it justice – I couldn't fit it in the shot if I'm honest. Mark and Dan have already played with it but I thought I'd get one of the Samsung staff to show me what it could do.
The Galaxy Note 8.0 was first on my list of devices to look at, so I popped down and got a demo from Britney (no, not that Britney). I had one question for her really, but after she slapped me I came up with a second. 😉 Surely, with the Galaxy Note 8.0 having the ability to make calls, you wouldn't actually hold it against your head .. would you?
Well, she did. It looked insane…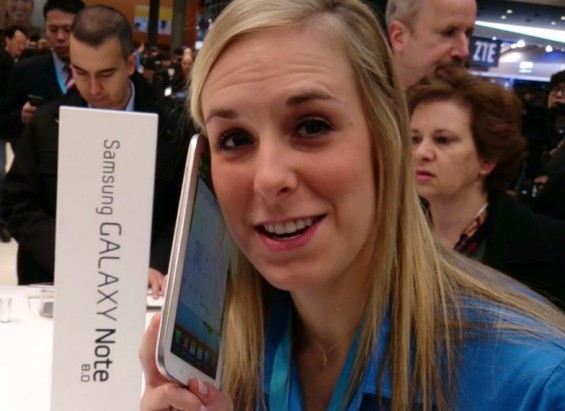 Before I get to that though I must mention the device itself. Like the iPad Mini, this feels really good in the hand and just the right size. Samsung have obviously realised that many eReaders are getting in on the action and you'll see how easy it is to read books on this.
The Galaxy Note 8.0 runs Android 4.1.2 Jelly Bean with a 1.6GHz quad-core CPU, 2 GB RAM, a 5 megapixel rear camera, 1.3 megapixel front camera and a 4600 mAh battery. I was, as I am with most Samsung products, impressed with the build quality, the design and the speed of it. It was a joy to hold and use.