The Android lover's eyes widened with expectation; what had once appeared to be a repulsive idea now seemed intriguing, daring, exciting even. Be gentle with me Mr. BlackBerry, it's my first time.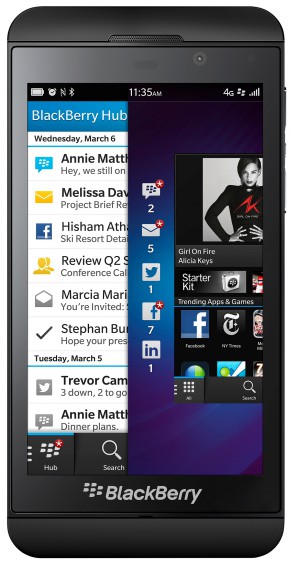 BlackBerrys have never appealed to me. Even in their heyday, when every third person was tapping away on their little keypads and cooing over how secure their messages were, I just couldn't get excited. I loved my QWERTY sliding HTC Windows Mobile phones and found the BlackBerry's keypads cramped and their displays made me squint.
To top things off, more recently a couple of my friends had build quality issues. In short, they seemed like a waste of money. However…
When rumours and images of the BlackBerry Z10 appeared I was hooked. OK, it at first it looked like it was just going to be another black, touchscreen rectangle – Apple, Android and Microsoft have kinda cornered that market – but a completely rewritten operating system on a stylish handset certainly sparked my interest.
When the lovely people over at Vodafone gave me the chance of playing with one for a week I jumped at the chance, and I am no longer a BlackBerry virgin.
So, to continue the tenuous pun, I most certainly will remember my first time.
Specs
Platform : BlackBerry 10
CPU : Dual-Core 1.5GHz
Memory : Internal phone storage: 16GB / RAM: 2GB / microSD slot
Display : 4.2″, 1280 x 768 resolution at 356 DPI
Camera : 8MP rear facing camera, Auto Focus, 5X digital zoom, 1080p HD video recording, 2MP front facing camera, 3X digital zoom, 720p HD video recording
Connectivity : Bluetooth® 4.0/ Wifi 802.11 a/b/g/n / 3.5 mm stereo audio jack / Micro-USB / NFC / microHDMI-Out
GPS : Yes
Network: GSM/GPRS/EDGE: 850/900/1800/1900 MHz / HSPA/WCDMA: 850/2100 MHz / 4G LTE
MicroSIM
Sensors: Gyro sensor, accelerometer, proximity and ambient light sensor
Battery : removable, 1800 mAh
Weight : 138 grams
Dimensions : 130 x 66 x 9.3 mm
Build and Feel
Straight out of the box the handset has a quality feel about it. The front of the phone is completely devoid of buttons and almost 100% glass save a strip at either end. Unfortunately these strips are highly reminiscent of the strips on the top and bottom on the rear of the iPhone 5 and the front of the HTC One. Que the lawyers and patent trolls!
The rubberised back has the BlackBerry stylised 'BB' logo inset in chrome. It has a pleasant non-slip feel to it, making a very welcome change after using my Nexus 4 which is more slippery than a teflon coated eel.
The weight and feel in the hand is satisfying, although not as pleasing as the iPhone 5 or Nexus 4. The power, volume and voice control buttons are all solid, positive and easy to use.
I have to say though that I have noticed a slither of light coming through a gap at the edge of the screen, and the joins where the glass meets the top and bottom strips are dust magnets; in the time that it took to insert the SIM and plug in the charger there was noticeable amounts of dust that my obsessive nature forced me to clean out, only to be replaced almost immediately. Oh, and this was in a regularly cleaned office, not a chalk factory!
These are very minor niggles and I have to say that overall the BlackBerry Z10 is a classy looking phone with a quality feel. Everyone who sees it wants a play, even those who don't know what it is at first, which has got to say something about the first impression it makes.
A two pronged attack
As regular readers will have noticed, I'm not the only one on the Coolsmartphone team who's popping their BlackBerry virginity – James Pearce has also got a Z10 for review, so we've decided that he'll cover the whole Z10 experience, whilst I'll focus on some of the main features BlackBerry are pushing with their new flagship.
Check back here over the next few days to find out what happens when I turn it on, my spotlights on BlackBerry Hub, the new BlackBerry keyboard and the Time Shift camera, as well as other thoughts on how this Android boy copes in the land of the BlackBerry.
For James' comprehensive first impressions post with specs and detailed photographs click here.