Three have opened up pre-orders of the recently announced HTC One device on both PAYG and Pay Monthly and is also available in both the Black and White models.  Both offer 32GB of storage built in.
The HTC One is the new flagship phone from the company and we are looking forward to getting hands on time with it at MWC next week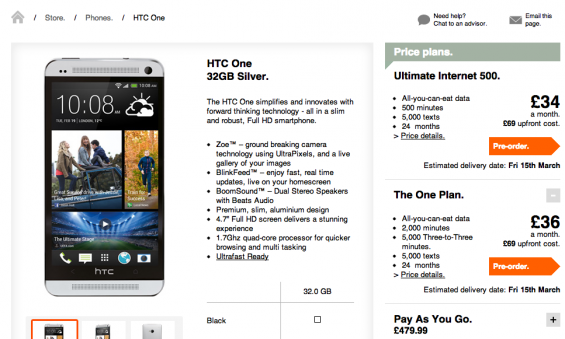 Picking up a One on PAYG will set you back £479.99 and there are two plans available if you want one on a monthly contract.  These are as follows
Ultimate Internet 500 gives you 500 Minutes, 5000 Texts and AYCE data for £34 a month and £60 upfront

The One Plan gives you 2000 Minutes, 5000 Texts, AYCE data (plus tethering) and 5000 3-to-3 minutes for £36 a month and £69 upfront
To order a HTC One of your own click here to access the official Three store
Here is the full press release from Three for more information:
HTC One – available for pre-order on Three.
The HTC One is available for pre-order on Three from 22 February and on sale from 15 March.
HTC's flagship smartphone for 2013 comes with a host of new features including BlinkFeed™ providing the latest updates from favourite social networks, email and news directly to the smartphone's live homescreen.

The HTC One also offers the best audio experience with BoomSound™, which has dual stereo speakers and Beats Audio™ so music lovers can enjoy authentic sounds as the artist intended without loss of quality.

Keen photographers will benefit from a new, highly innovative UltraPixel camera and with HTC Zoe™ takes sharp, clear photos that can be shared quickly with friends and family over Three's Ultrafast network*.

The HTC One's 4.7" full HD screen provides the ultimate viewing experience, allowing people to stream movies, watch TV shows or play games, all in stunning full HD quality. It also packs a powerful 1.7Ghz quad core processor into the slim and robust design so it can handle all of these tasks while seamlessly running applications with ease

Sylvia Chind, Head of Devices at Three said, "Packed full to the brim with innovative technology, we're delighted to offer the HTC One for pre-order from 22 February and available from 15 March. This smartphone offers the latest in a premium, aluminium design and is the perfect partner to enjoy our Ultrafast network*".

The smartphone will be available from 15 March for £34 a month with an upfront cost of £69 on the Ultimate Internet 500 plan. It will also be available for £36 a month with an upfront cost of £69 on The One Plan. Both plans come with All- You-Can-Eat data giving you the ultimate internet experience on Three's Ultrafast network with no price premium.

In the meantime, to find out more about the HTC One, check out Three's sneak peek of the device here.

BlinkFeed™ – enjoy fast, real time updates, live on your homescreen.
BoomSound™ – Dual Stereo Speakers with Beats Audio™.
Ultrabrilliant meets Ultrafast.
Premium slim, aluminium design.
Zoe™ – ground breaking camera technology and a live gallery.
Ultrapixels meets Ultrafast.
4.7" full HD screen delivers a stunning experience.
1.7Ghz quad-core processor for quicker browsing and multi tasking.