The weather. It's always a major topic of conversation here in the UK. You can stop anyone in the street here and probably spend a good half hour talking about the rain or how cold it is. If you're into your weather, and you're into your tech, check this out. It's a Weather Station.
Ahh – but this is no ordinary weather station. This works with your iPhone, iPad or Android device. It communicates cleverly with your device to display and graph the weather conditions outside, plus the temperature, sound and CO2 levels inside. Yes, inside. The Netatmo people tell me that "80% of time you're inside" so this weather station becomes an "Urban Weather Station" because it takes care of you in a way.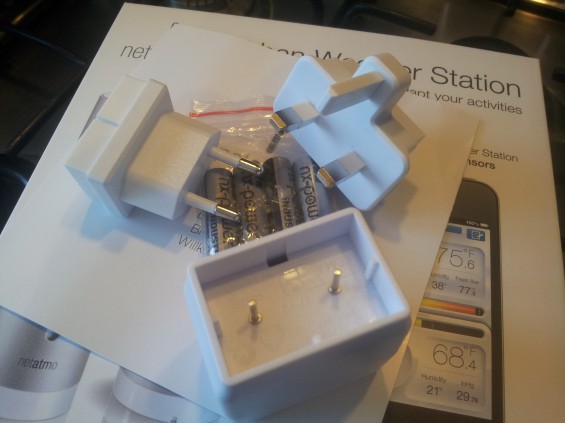 Before I get to the whole unboxing thing, let me tell you about that CO2 level stuff. If you sit in your lounge (or front room, whatever you fancy calling it) and have all the doors and windows shut, your're going to lower the air quality. Bang the fire on, get a few people breathing heavily as you all play Twister and you're going to have a higher CO2 level. When the level goes too high, the indoor station will let your iPad / iPhone or Android device know, and you'll be reminded to let the air circulate around a bit. Open a window. Open a door. Let that goodness in, baby.
Alright, onto the unboxing and can I just say how stunning the whole thing is? It arrives in a box which makes you feel like you're unpacking an iPad. Inside two cool metal sensors are nestled in carboard like two highly expensive perfume bottles. The design (and I promise I'm not reading this) is wonderfully simple and elegant. It's an aluminium design which is durable and clearly made to last.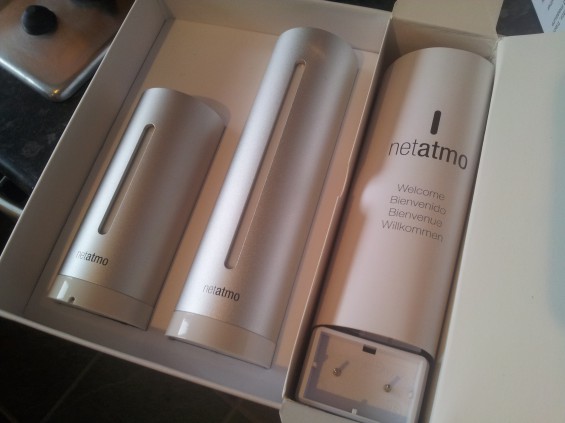 There's two sensors, aka modules. The taller one is the indoor module and the smaller one is the outdoor one.
But HOW, I hear you ask, HOW do you get it working? Just how do they all connect up? Well now, it's all brilliantly simple. First up, you get batteries. Included. That alone is unusual, and I love the fact that you've not just spent money buying a solution only to have to rummage around for batteries after. Four AAA batteries are provided and they sit in the outdoor unit. You get a coin, rotate a small plastic disc on the bottom of the cylindrical unit and slot the batteries in.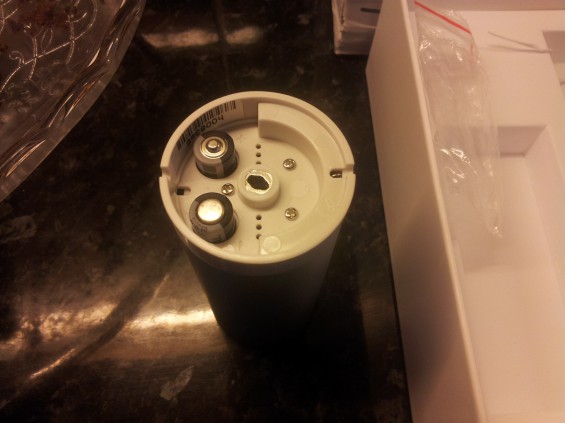 To get the outdoor module rigged up you get a screw to help you fix it to an outer wall. If drilling and fixing isn't your thing, or you can't find a suitable site, there's a velcro strap which is ideal for fitting to drain pipes and such like. The easy-to-follow instructions suggest putting it out of direct rain, so I stuck it just under the guttering. In the shots below I've attached it to the fence and a drain pipe to show you how easy it is to move around and fix into place..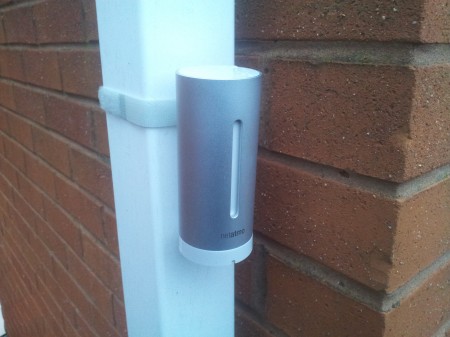 Next, the main "indoor" module. This is powered by a USB charger, which is provided, but first you need to get it hooked into your WiFi network. Now, that's going to be tricky isn't it? How do I connect? Where's the controls? Agh! Panic!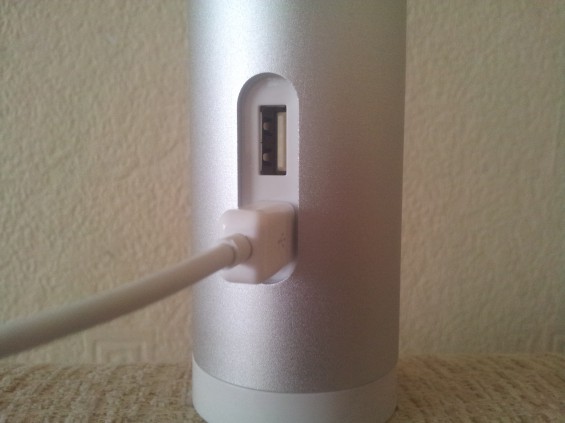 No need. All you need to do is grab your standard USB-to-phone cable and plug it into the indoor base module. It'll magically pull the WiFi settings from your iPhone / iPad or Android device and get them setup on the indoor module. The upper port in the picture above is for that, whilst the bottom is for powering the device.
The setup process brilliantly quick and simple, and you then only need to unplug it from your iPhone (or whatever) and plug it into the wall to provide power. That, I'm glad to say, is it setup-wise. The only remaining step is to download the free Netatmo app and hook it into your indoor module which, in turn, communicates with the outdoor module. You don't need to do anything further, but you can request a "reading" by tapping the top of the indoor module. Provided the indoor and outdoor modules can talk to each other (the app will tell you if they can't) then you're set.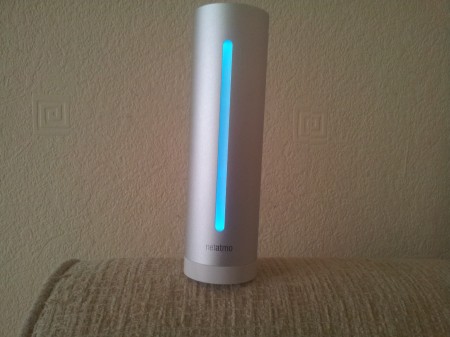 As always, we've got a video showing you how this all gets setup…
The app and weather station gets you an lifetime account into the Netatmo system and you can then see the measurements on the app. It'll display the indoor and outdoor measurements into clear and comprehensive dashboards, graphs and notifications. They're hoping to build a huge community of urban weather stations to help detect weather patterns and real-time updates.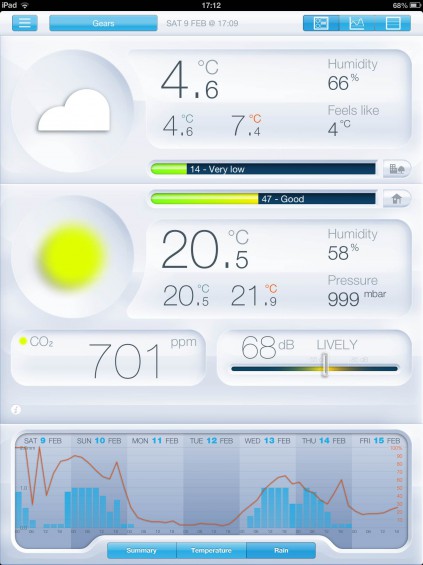 The graphs show you current temperatures, pressure readings and the overall conditions. You can instantly tell how warm it is, the humidity and what it was like overnight, or yesterday, or last week. There's a full forecast and sound level read-out too.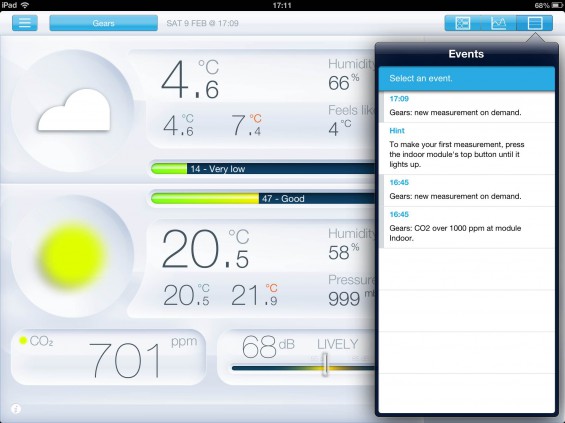 You can share your data on social networks and all the data is stored online.  You can install the app on more than just the one device too. There's lifetime support from the Netatmo people and no subscription fee to pay and the graphs chart the data you've recorded – just zoom in and out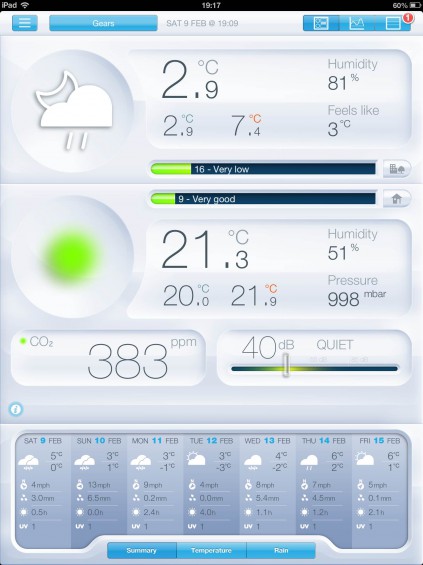 Overall, I loved the design of the modules (they've won awards for this) and the setup was totally pain-free. Now my iPad "bongs" when there's a big change in temperature outside and I can keep an eye on the air quality too – it's something that's become my new "thing" and I'm opening windows and checking air-bricks in the house more now. The price, at £169.95, might be a barrier for some, but I think that those interested in weather patterns and the environment around them will find this a premium product in both quality, design and support.