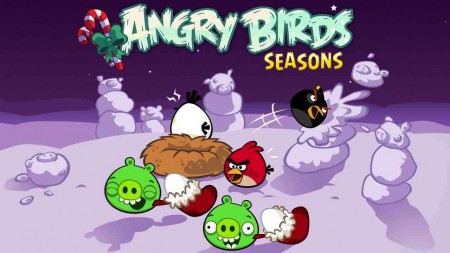 For Windows Phone 8 users the wait as finally over as Angry Birds Seasons arrives!
Joining Angry Birds Space and Angry Birds Star Wars, Seasons offers more than 300 levels across a variety of special seasons including Halloween and Christmas. The style of the gameplay sticks close to that of the original Angry Birds series, but who doesn't love flinging birds and evil Pigs?!
Rovio have promised regular free updates to the app, so users can enjoy even more levels of Angry action, plus there's rumours of Angry Birds Rio and Bad Piggies joining the Windows Phone 8 lineup, making the collection complete.
Angry Birds Seasons can be downloaded for 79p here or there's a free trial if you just want a taster.
Angry Birds Seasons takes the captivating gameplay of the original to a whole new level! From Halloween to Chinese New Year, the birds are celebrating different festive seasons around the world! With more than 300 levels and regular free updates, these special episodes offer more challenging levels of pig-popping action and golden eggs to discover.