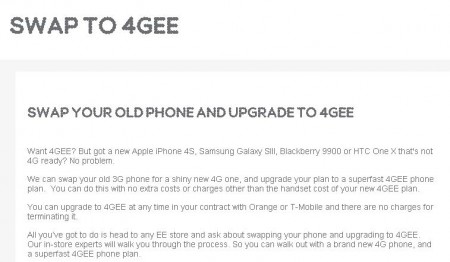 The boys at EE are keen to get you in board. Currently Kevin Bacon is offering out a vagazzle to anyone who's interested and, meanwhile, EE are pushing their "Swap to EE" offer to those currently on Orange and T-Mobile. You'll have to be using an iPhone 4S, Samsung Galaxy SIII, HTC One X or Blackberry 9900.
It seems that you'll need to just hand back your old phone. From what we're hearing there'll be no buy out fee, so you should be able to hop across mid-contract. Free upgrades to EE are available from as early as 15 days into the contract
More as we get it, but do let us know if you've gone into an EE store and got the deal.
Link – ee.co.uk/swapto4gee