Gemini Devices have today announced two new models in their JoyTab range. The JoyTAB Duo 7 3G (Gem7032G) RRP £139.99 and the JoyTAB Duo 7 (Gem7020) RRP £79.99. Price wise the new tablets are certainly intriguing. The other thing with the JoyTab spec is that they come with the Play Store installed. Also the Gem7032G comes with 3G which is a pretty decent price for a 3G 7″ device. The Duo 7 3G also has GPS so it can be used  as a satellite navigation device, whether on foot or in a vehicle there are plenty of applications available from the Android Market to fully exploit the onboard GPS. The JoyTAB Duo 7 3G has a simple, stylish black design a and at 276 grams it should be fairly light in the hand.
The JoyTab 7032 has a fairly basic spec:
JoyTAB Duo 7 3G (Gem7032G)
RRP £139.99
CPU: Dual Core Cortex A9 Ghz
Memory: 1GB DDR3
Storage: 4GB built-in, upgradeable with Micro SD Card up to 32GB (approx. 36GB total)
Display: Capacitive 5 point Multi-Touch Screen/7inch – 1024 x 600
Connectivity: Micro SD Audio: Built-in Speaker, Built-in Mic, 3.5mm Stereo Earphone Jack Wireless
Network: Wi-Fi 802.11 b/g/n Built-in Bluetooth, 3G, GPS
Camera: Front 0.3 Megapixel, Rear 2.0 Megapixel
Gyroscope: Built in G sensor for gaming and automatic screen rotation
Battery: 5800mAh
OS: Google Android 4.0 (Upgrade to 4.2 Jelly Bean due soon)
Dimensions and weight: (W/H) 190.2mm x (H/W) 120.5mm x (D) 11.5mm / 276g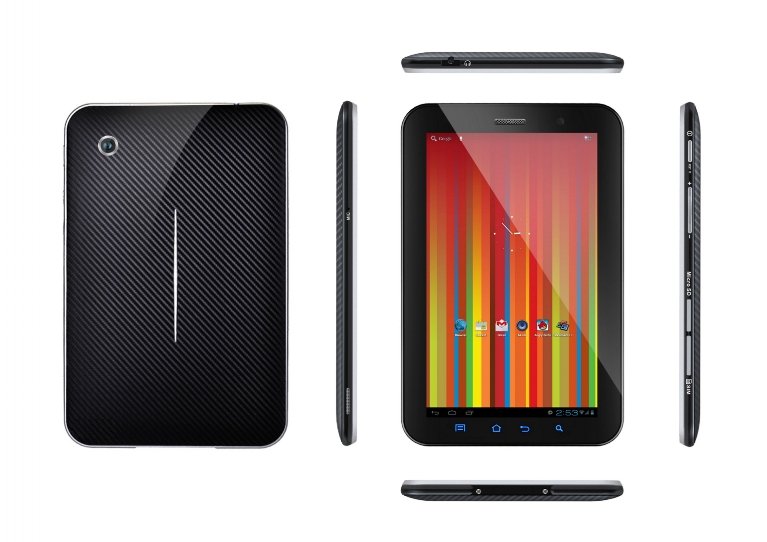 The bank balance friendly JoyTAB Duo 7 is only £79.99 which suggests it might be the best device out there, but with the Play Store it may find a home somewhere.
The spec for the cheaper 7020 is obviously lower than the other model.
JoyTAB Duo 7 (Gem7020) RRP £79.99
CPU: Dual Core Cortex A9 1.6Ghz
Memory: 1GB DDR3
Storage: 8GB built-in, upgradeable with Micro SD Card up to 32GB (approx. 40GB total)
Display: Capacitive 5 point Multi-Touch Screen/7inch – 1024 x 600
Connectivity: Micro USB Port, Micro SD
Audio: Built-in Speaker, Built-in Mic, 3.5mm Stereo Earphone Jack
Wireless Network: Wi-Fi 802.11 b/g/n
Camera: Front 0.3 Megapixel, Rear 2.0 Megapixel
Gyroscope: Built in G sensor for gaming and automatic screen rotation
Battery: 2800mAh
OS: Google Android 4.1 (Jelly Bean)
Dimensions and weight: (W/H) 192mm x (H/W) 124mm x (D) 9mm / 276g