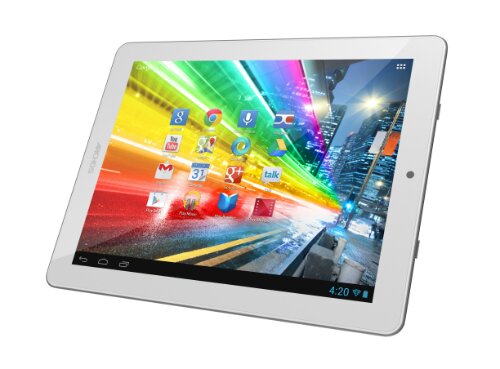 Archos are probably one of the oldest players in the tablet market. They have been making handheld media devices for many many years. I fondly remember my Archos 605 WiFi from yesteryear. In recent years they have been struggling to make an impact. They seem to have decided that cheap plasticy devices was the way forwards. But recently with the XS range and now the Platinum range things seem to be stepping up in the quality stakes.
The Platinum tablets will be available in three different sizes an 8-inch, 9.7-inch and 11.6-inch, each with slightly different spec. Each tablet will feature a sleek aluminum design combined with the best high definition IPS displays, quad-core processors and Android 4.1 Jelly Bean. The one that has caught my attention is the middle sized one the 97 Platinum HD which has a 2048×1536 resolution IPS screen, which should look amazing. Websites, pictures and games will look amazing. Maybe it will be the device to get me back on the Android tablet thing.
The entire Platinum range will all share the following features:
High-Definition IPS display with capacitive multi-touch screen
QUAD core CPU at 1.2 GHz with 8-core GPU, with 1080p video decoding
2 GB RAM
Android 4.1 Jelly Bean
Full access to the 700,000 applications
Archos Media Center applications
Front and Back Cameras
Mini-HDMI and Micro SD ports
The ARCHOS 80 Platinum, is an 8" tablet, featuring a 1024×768 resolution IPS screen and compared to the Kindle Fire HD 8.9 it is almost twice as fast, has double the RAM and has a back camera for a fraction of the cost. The 80 Platinum will be available in February for £179
The ARCHOS 97 Platinum HD, is a 9.7" tablet, featuring a stunning 2048×1536 resolution IPS screen, which is comparable to the Retina display found in the iPad, but is 40% less expensive. The 97 Platinum HD will be available in February for £249.
The ARCHOS 116 Platinum, is an 11.6" tablet, featuring a 1920×1080 resolution IPS screen, which Archos say is "unlike anything currently on the market". I guess they haven't checked the spec on the Transformer Infinity. The 116 Platinum will be available in April for £299.
As these new tablets all are made of aluminium they should have a pretty premium look combined with decent specifications as well. At to where the compromise has been made to hit the price points I'm not sure. I'm guessing it will be storage space and a cheaper CPU/GPU combo.
For more information head over to the Archos website here.