It is now less than a week away.
The hype around the HTC event to be held on Tuesday is growing daily and now even HTC have got in on the act.
They appear to be pulling out all the stops for the HTC One (whose name was confirmed by advertising hoardings during a Champions League match) and this has now stretched to the HTC web site.
Load up their homepage and you are greeted with a countdown timer ticking away the seconds until 3pm on Tuesday afternoon.  Co-incidentally (or perhaps not) this is the time that the press event is scheduled for in both London and New York.



What is interesting is that when the seconds counter ends in a 1, the colour changes to green…..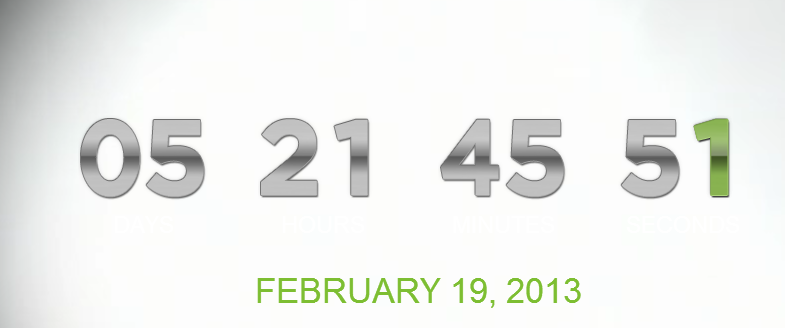 Are we about to see a green handset, are Samsung going to go green with envy or is this the green of Key Lime Pie?
Apart from the HTC bods nobody knows but one thing is for certain and that is that Coolsmartphone will be there to bring you the news as it happens.
In the meantime, keep yourselves occupied with this 20 second teaser…
[yframe url='http://www.youtube.com/watch?v=lPCUCRkv47I ']