The Galaxy Note 8.0 is rumoured to be announced at MWC at the end of the month. As time passes more and more information is starting to appear about it.
A few weeks ago initial details appeared and it seemed like it was going to be priced and specified specifically to compete with the iPad Mini. Now today via the Bluetooth certification, it seems there is going to be three models. A WiFi only model GT-N5100, a WiFi and 3G model Gt-N5110 and a WiFi 3G LTE model GT-N5105.
Website Dday seem to have got hold of an image that might be the Note 8.0. It certainly looks about the right shape and size.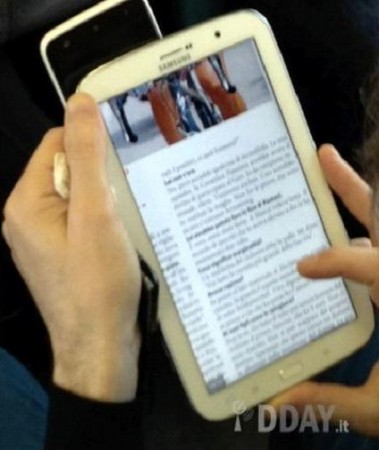 As usual no solid prices have been mentioned. Although if they have a few different storage space options as well you should be able to get a Note 8.0 to suit your budget.
As we lea up to MWC expect more details to leak out as the event gets closer. Personally I can't wait for this to be announced. The size and the functionality will be perfect for me.
Source – Unwired View – Image  Dday.it