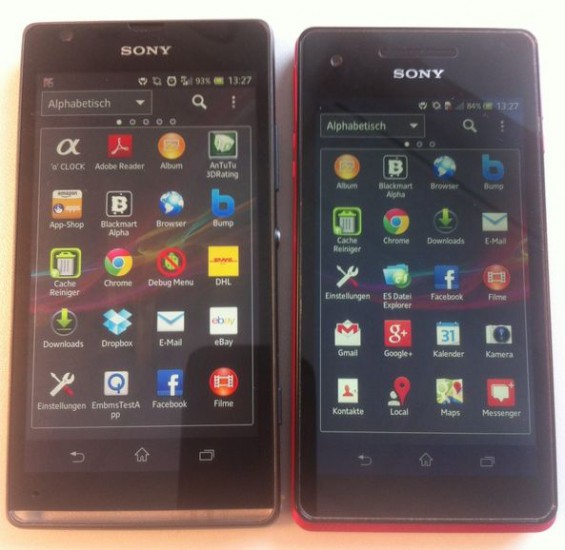 The Xperia Z has swamped the Sony headlines recently, but there are more devices on the horizon. One of which has shown its face on German site Android Hilfe going by the name Xperia SP.
Originally known with the working name of C530X, the Xperia SP is photographed next to the current Xperia V, supposedly hinting at the position it will take in the new hierarchy. Design wise, the SP seems to be sort of in between the new flagship and the current range. The screen is slightly larger (aren't they all these days?) at 4.5-inches, and is rumoured to have a resolution of 720p powered by an Adreno 320 GPU with the new Mobile Bravia Engine 2 to 'enhance' the colours.
The anonymous tipster says that the back will be plastic with a removable panel for microSIM and microSD cards, making waterproofing virtually impossible. However, the battery will not be replaceable.
Other rumoured specs include a 1.7GHz dual-core Qualcomm Snapdragon S4 Pro MSM8960T CPU and optional 4G connectivity (depending on the country – fingers crossed).
The photos also show the Xperia SP to be running Android version 4.1.2 Jelly Bean, where as the V is still on 4.0.4 Ice Cream Sandwich. Sony will no doubt skin this with the same updated UI that we've seen on the Xperia Z. Whether that's a good thing or not is down to your own personal taste, but let's not take a straw poll here!
It's likely that the Xperia SP will be announced formally at Mobile World Congress at the end of the month, and personally I'm looking forward to it. In my wishlist for 2013 I wished for Sony to step up and take on the big kids. If the Xperia Z and SP are anything to go by I think I can tick that one off.
Click for larger images