Google have published the latest details showing which versions of Android people are running out there. Whilst it shows some good news it also contains some quite worrying info as well.
As of the 4th of February 42.6% of people were running Ice Cream Sandwich or above which is great news. It means that just under half of the Android users are experiencing Android almost how it should be seen and not how it was several years ago. I'm guessing that most of these are the updated Galaxy SII and current generation HTC devices.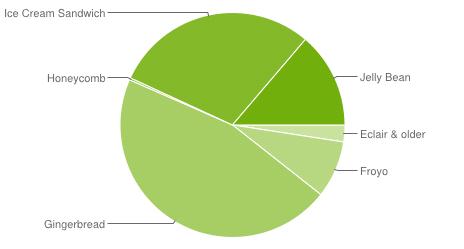 13.6% of people are on a version of Jelly Bean which is pleasant to see it creep above 10%. Again I'm guessing here but this is likely to be updated HTC devices, the current Samsung top end range and a few dozen LG NExus 4.
But most worrying of all is that 56.1% of people are running Gingerbread or lower. Whether this is old devices, slow devices, knock of tablets or just devices HTC can't be bothered to update I don't know. But it is worrying, over half of the Android user base are using a version of Android from yester year, no bookmark syncing, none of the latest apps.
I guess as long as you are enjoying your phone thats all that matters, only version obsessed people like me obsess over having the latest version of Android.
Source – Android Developers