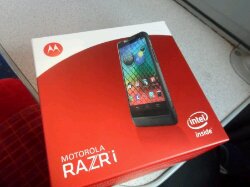 The Motorola RAZR i is one of those phones that for me personally seems like the ideal package. A smallish chassis, decent spec, memory card slot, decent camera and a price that wouldn't break the bank.
One thing put me off slightly when it was released and that was Ice Cream Sandwich. As usual the release was accompanied by the usual cries of "it'll be updated at some point soon". Well that day is finally upon us.
Or it is for some of you. The difference between a manufacturer saying "there is an update available" and it actually appearing on your phone can be drastic.
Motorola have acknowledged this and have said the following on their blog:
We're excited to announce that MOTOROLA RAZR™ i with Intel Inside is getting upgraded to Android™ 4.1 Jelly Bean. Starting today, the upgrade will be rolled out to users in phases. Jelly Bean includes a number of fantastic new and improved features, including Google Now, Voice Search, and improved notifications. Check out Motorola.com/jellybean to learn more, and watch the three videos below to see Jelly Bean in action:
Motorola also got so excited about actually updating their phones they've made some videos about Jelly Bean as well. Check them out below.
http://www.youtube.com/watch?v=0rafuG0o1MA
http://www.youtube.com/watch?v=AzgRLge_w80
http://www.youtube.com/watch?v=zfn3mF4RhzE
Source – Motorola