The Sky+ app has been a firm favourite with most Sky TV customers for quite some time, but this latest update is a biggy. Now, just like Zeebox, the app will let you fully control your viewing.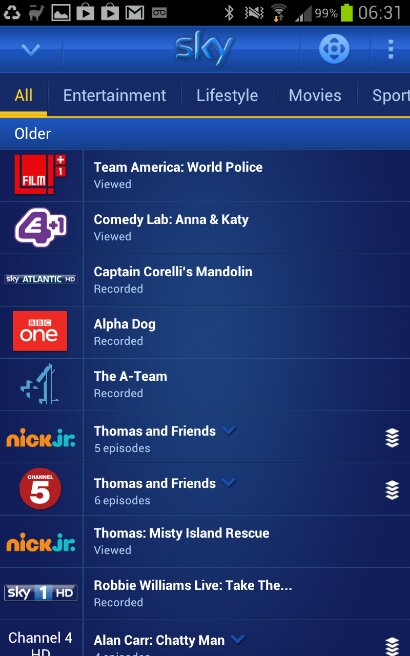 A new panel has been added and shows all the TV you've recorded or downloaded. You can watch it, delete it or get more information about it.
Also there's a rather strange / interesting control system for letting you pause, play, rewind and change channels. The interface is (drumroll) a completely blank screen (which I found a little weird), although there is a helper screen and you can quickly hop around channels by entering the number. It all involves either one finger or two, and whether you swipe or tap..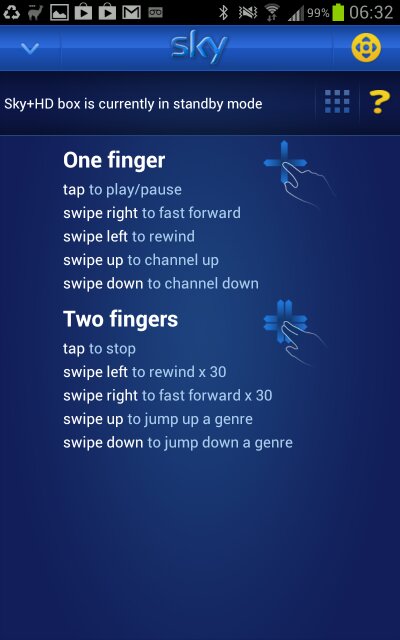 All in all , this now replaces your Sky remote. A lot of this functionality is dependant on your Sky box being connected to your WiFi router (and your phone being connected to the same network), but you can still do all the Remote Record and TV Guide planning when you're out and about.
If you don't want to use this as your main controller then you can at least have a secret channel-changer for when the missus is hogging the remote. 🙂
We've checked and the iPhone version doesn't seem to have the same update as yet. Do let us know if you've seen it.
Link – Sky+ (Android)