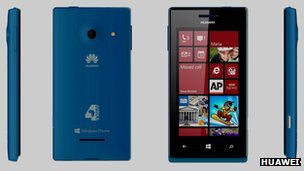 Huawei the Chinese telecom giant has today announced, that in partnership with Mircosoft that a customised windows device is to be launched as part of its new 4Afrika Initiative. Plans include developing a  cheap wireless broadband in the Rift Valley in Kenya and help local people in South Africa and Egypt develop Windows apps.
Gustavo Fuchs, director of Microsoft Windows Phone division in the Middle East & Africa, told the BBC
"Our aim is to be the most affordable Windows phone in Africa,"
It will initially be rolled out in seven countries: Egypt, Nigeria, Kenya, Ivory Coast, Angola, Morocco and South Africa. The phone will be marketed depending on the retail climate of those individual nations, Mr Fuchs explained.
"At first we are making the product available across the southern market. We're looking at the biggest channel for each country. In South Africa, it's operator-led, in other markets like Nigeria and Angola there's a mixed environment and in the Ivory Coast they are only sold at retail."
Accessibility
The phone will be connected to a customised app store including applications designed and built by Africans.
"Affordability is important but without the right local content we believe a lot of users will not see the benefit in the change from a basic feature phone to a smartphone,"
Fuchs said the objective of the scheme was to increase the penetration of smartphones across the continent.
"If you look at current penetration compared with the US or Europe, which is around 50%, in Africa the average is very close to 10%, less in some parts."
The handset is a customised version of the Huawei Ascend W1 which was displayed at the Consumer Electronics Show in Las Vegas last month. It has a 4in (10cm) touch screen and 5 megapixel camera. The phone can be on stand-by for up to 420 hours between charges.
Fuchs also added that:
"The 4Afrika Initiative should make tens of millions of smart devices available across the continent in the next couple of years,"
No pricing for devices have been released, Is this the beginning of regional specific phones ? 
Source :- BBC