Do you know that feeling when you just have to have something? Well during my time with the Nexus 7 I have experienced it three times.
First of all when the damn thing came out. The thought of a Nexus branded tablet was too much for me and I bought one.
Around about the same time lots of pictures of accessories were leaked as well. I wanted all of them, the cases, the dock, the lot. I even wanted accessories that didn't exist like the Asus Transformer style keyboard dock, I wanted that so much it actually hurt.
Months and months went by and still no sign of the official accessories. eBay was awash with third party awful black leather cases and half baked docks that only worked in portrait to use the Micro USB port. Needless to say I didn't buy any of those.
Then totally unannounced the Asus Travel case appeared in stock. Which we reviewed here. This was the second time I felt that feeling.
I was happy with my new case yet I yearned for more, I knew that Asus had more to offer. Why wouldn't they just release the Audio Dock? Then rumours started flying around about the dock coming out in China only, then the US as well and then BAM it's only flipping in stock on the Asus UK Shop. I couldn't control my emotions and stopped working and instantly logged in to order one. Two week delivery it said, that didn't phase me, it just gave me time to plan what on earth I was going to do with an Audio dock for a device I barely use. That was the third time I felt that feeling.
It finally arrived and Asus had shipped it loose inside a massive box. Oh well, luckily it was undamaged. So onto my review, first of all my good and bad points.
Good Points
Nicely solid feel to it
Pogo pin connection means volume and power buttons are usable
Bad Points
Expensive
Connection doesn't feel solid enough
No built in dock mode in Android
Design
The dock is a nice solid, fairly heavy lump of plastic.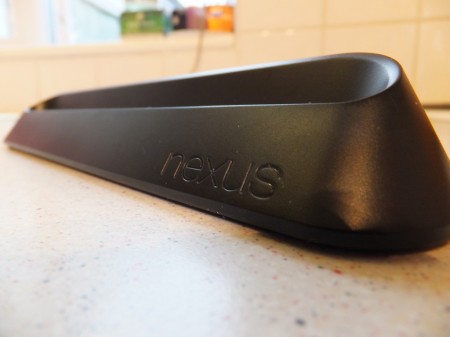 It looks nice, it feels nice, it doesn't have any sharp edges or dodgy joins. It's as nice as a lump of black plastic could be. Inside the dock are the Pogo pins that connect the Nexus 7 to the dock, these allow audio to be routed to the audio output port, they also allow the Nexus 7 to be charged. They don't allow data to be transferred though you have to use the normal Micro USB port on the side of the Nexus.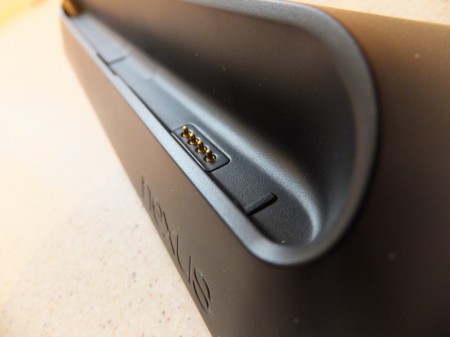 Round the back are the connections, you get Micro USB and a 3.5mm audio port.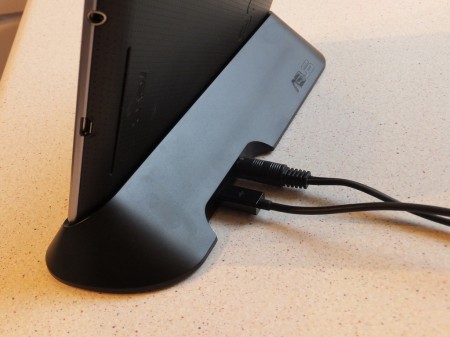 People have complained about lack of HDMI out, the Nexus 7 doesn't support it so that explains why that isn't present. Personally I feel the angle is slightly too steep for me.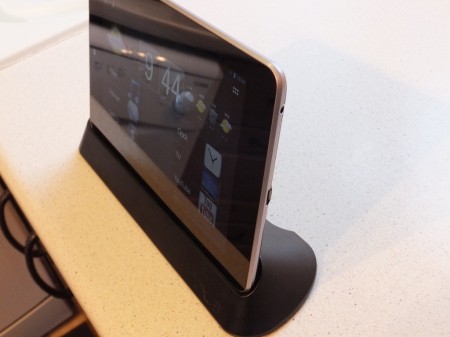 It's a little too close to vertical for my liking. Although this did inspire me as to what to do with the Nexus 7 and it's new dock.
In Use
As I mentioned earlier I wasn't really that sure what I could do with the dock, yes I could play music out of it and yes I could store my Nexus 7 at a slightly odd angle. Neither of these seemed essential uses of such a nice looking black piece of plastic.
Since Google updated the stock launcher and UI to work in landscape the Nexus 7 leant itself to being used in landscape. This dock is ideal for that.
I always had a vision of a small 7″ device being used to control various things in use around the house. Be it home automation, CCTV, security systems, audio systems, lighting, heating, emails, calendars and being able to just pick it up and browse the web. With a bit of work the Nexus 7 and the dock could be capable of great things.
I've decided that my Nexus 7 dock is going to be my home audio system front end. A large chunk of my music has been uploaded to Google Play Music and most new albums I buy get uploaded too. My home PC has speakers on it but they aren't great and waiting to boot my PC to listen to music is a little tedious. My plan is to use the Nexus 7 and the dock to connect to my stereo system and to act as a Web connected front end to my Google Play Music collection and also my music stored on my NAS drive. I will basically be able to get to my music almost instantly.
One thing that is disappointing is the lack of dock mode in Jelly Bean, I'd like to put the Nexus in the dock and for it to trigger a certain mode, like with a car dock. With larger icons etc for ease of use. What Google have done is something called "Daydream" mode which sense when the Nexus is docked and launches one of half a dozen pointless apps. It isn't configurable in the slightest, so I just turned if off.
As I'm going to let my wife loose on this soon I decided to make a quite easy UI for the Nexus 7. I used Desktop Visualizer and some large icons I found on XDA. This is what I came up with: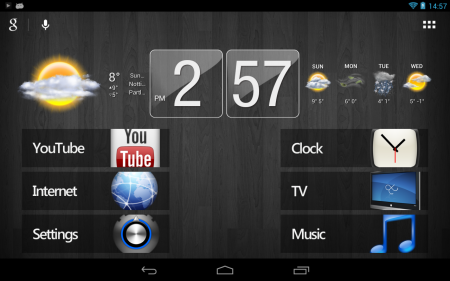 Music loads up BubbleUPnP which connects to my NAS drive and also to Google Play Music.
Conclusion
In conclusion the Asus Nexus 7 Audio Dock is a great piece of kit, as a stand alone accessory it seems a bit pricey and unnecessary. But it has inspired me to do something with my Nexus 7 that I had previously been putting off. As to whether it's going to be as useful to you I don't know.
Either way here is the link to the Asus UK Shop and it currently costs £24.99. It is out of stock.