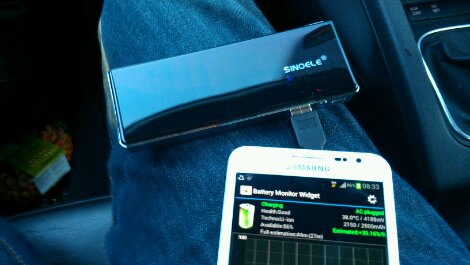 So on Tuesday we added a post about the Movpower 5200 Portable Charger. I decided to get one. There's another version available but this baby has a capacity of 5200mAh. That's quite a bit. The Samsung Galaxy Note has a 2500mAh battery, which is hefty enough, so this battery pack is more than double that. Have a look at your phone battery – most range between 1000mAh and 1700mAh.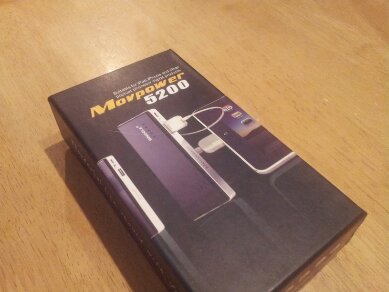 This "Portable Charger" is, if we're honest, a big-ass battery. You charge it up with any USB wall charger (like the one you use to charge your phone). This plugs in via a miniUSB plug. You'll get one of these in the box along with many other adaptors. For most of us, you'll only need to keep the microUSB and miniUSB plug to hand, but there's an adaptor for the iPhone / iPad (not the Lightning connector though), Nokia mini, Samsung G600 and Samsung D800. Once you've charged it up, you pop it in your pocket and off you go.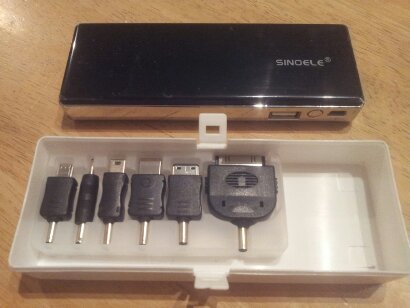 Included in the box is a USB cable with the circular port at the other end. It's here that you plug in the necessary adaptor, but to be honest I found that I just permanently left the miniUSB adaptor plugged into the cable and left that at home with the wall-charger. I'm sure most people have got the necessary USB cable for their phone so that just stayed in my pocket with the Portable Charger.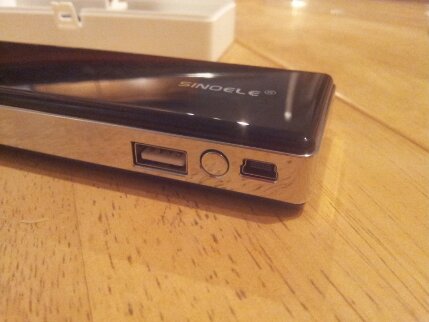 In the box, once you've opened it up, is a cloth for keeping the unit shiny shiny and an instruction leaflet. This is a little comical if you read it, and contains some classic Chinglish phrases such as..
(The) iPad has sleek ultra-thin surface, strong multi-functional operating experience and leads to a new wave of hot sale. (The Movpower 5200) is a product with super battery capacity. Its decent and lavish..
..and the classic..
When using the Movpower to charge phones, please keep them steady, in case the situation of poor contact aroused by shaking.
You get the idea.
First up, you need to charge it up. Hook up the miniUSB cable on the Movpower 5200 and the other end to your wall charger. Blue LED's will flash on the top to let you know that it's charging. These five LED's also give you an at-a-glance look at how full the battery is. I've taken mine straight out of the box and, after a couple of hours charging, I've got three bars so far.
When you get all five bars lit, you're good to go (although of course I could unplug it any time). Then, when you're out and away from any charging point or you just want to keep your phone with you while it charges (how many of us hate leaving our phone charging in the car while we're visiting people?) you just turn it on. Grab your USB charging cable, plug it into the standard USB port on the Movpower unit and the other end in your phone. You then turn on the unit by pressing and holding the button on the device. This "unlocks" the device so that you can begin using it.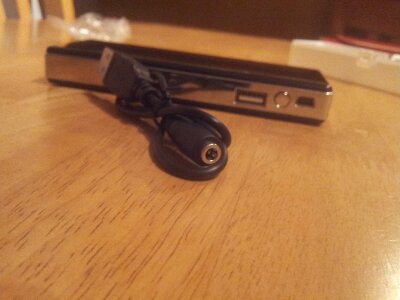 Pressing once starts the charging process. Pressing a second time stops charging and shows you how much charge is left.
Press and hold to "lock" the device again and prevent any accidental charging or use of the battery.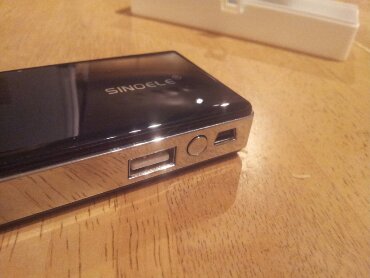 Overall
What can I say? It looks pretty swish and does the job well. Sure, we could get into the whole argument about the fact that phone batteries SHOULD last longer, but what can we do. This is by far a better alternative for me compared to those extended batteries. Personally I'm happier with this in my pocket rather than a bulky phone.
When I plugged this into my phone there was a noticeable boost in power – this isn't a trickle charge and I visably saw the battery level rise from 85% to 87% in less than 10 minutes. Impressive.
This was on sale at Expansys, but after we posted our earlier story they quickly sold out. Luckily there's another one, and whilst it doesn't hold as much charge, it's only £2.99! The alternative portable charger holds 2200mAh and that price is 90% off the original!