I love my MiFi, it's an old unlocked unit I got on eBay a few years ago, I dig it out for days where I need my laptop out on the road. At times though it struggles to provide 2G speeds never mind 3G or even 4G. Maybe it's time to upgrade, maybe ZTE have the answer to my problem.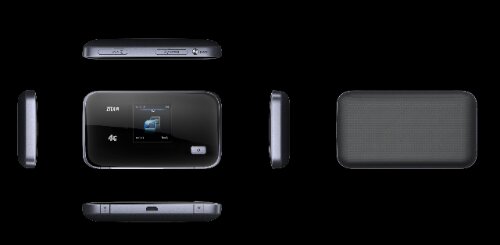 They have announced the ZTE MF93D, which is a second generation 4G (LTE) mobile hotspot device which can reach a maximum speed of up to 100Mbps and can be accessed by 10 users at the same time. Although the only 4G network in the UK aren't going to let you connect anywhere near that speed.
The ZTE MF93D has a few interesting features to it.
Incorporating second generation Qualcomm LTE chips, the ZTE MF93D provides significant performance enhancements to ZTE's first generation LTE uFi products including decreased power consumption and improved heat dispersion. It supports dual-band 2.4G/5GHz WiFi networks and mainstream 4G bands in the Europe and Asian-Pacific regions, and can also use 3G and 2G networks, eliminating the cost of upgrading terminals. It has increased battery capacity of 2800mAh, guarantees that users can enjoy ultra-speed surfing on the Internet regardless of the time or place.
The ZTE MF93D also seems to be a bit different to the competition, it has a 1.4-inch touch screen and support for a uFi monitor, allowing users to access the Internet with just one key. Users' mobile phones can be used to simply and quickly check the status of uFi devices, network signal strength, battery capacity, data flow statistics and upload/download speed.
The ZTE MF93D sounds like quite a clever little piece of kit. Especially have a larger built in battery compared to previous generations. Although there are no prices or availability yet, we'll bring you more info as it appears.