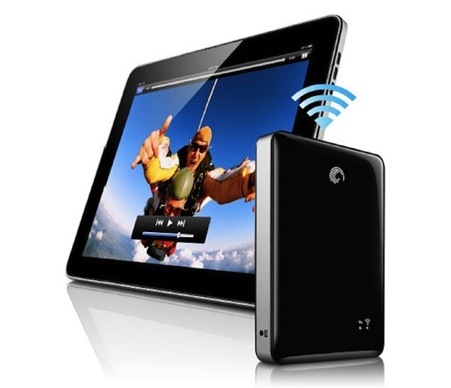 About two "Gadget Show Live" events ago I was approached by a man carrying a iPad with a HD film playing on it. Nothing new there I thought, but as I was walking away, he showed me a small portable hard drive which he had in his pocket. The movie was being streamed by WiFi through this box, but when I asked the price I was told that it was yet to be released.
Fast forward two years to November last year and, while on holiday in Florida I spied it in a Best Buy. The Seagate GoFlex, as it's known, was on sale $99, which works out at around £66. One was promptly snapped up and placed in the case for the journey back to Blighty.
Right, down to business. The Seagate GoFlex is a portable hard drive of 500GB in size with its own battery. It is able to stream content over its own WiFi network, but here's the clever thing. It can stream to either IOS or Android devices, laptops or any other device that has a web browser, and it can stream 3 different movies to 3 different devices at the same time. So that sorts out then problem of what the kids can watch in the back of the car on those long car journeys, as the drive comes with its own car charger.
Movie streaming from the drive is faultless, videos playback in HD and are a dream to watch on almost any device, It has the feature that I like that you can pause a movie and when you go back you can resume playing from where you left off or again from the beginning of the movie.
The software was a bit clunky at the start but Seagate have recently updated the software to a new version and have ironed out some of the initial glitches, one problem was you could either connect wirelessly to the Seagate drive or to your Wi-Fi network.  This has now been addressed and the Seagate drive now can act as a passthrough so you can stay connected to the drive whilst surfing the net through your regular Wi-Fi hotspot or home network.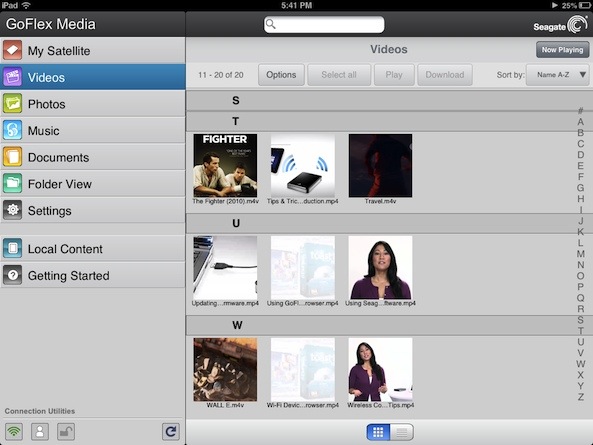 Another advantage of the Seagate drive is that you can still connect it via a USB lead and use it as an external drive, so I have my drive loaded up with all my little boy's favourite movies for those long car journeys or even when we go away on holiday I use it to connect to my WD TV box through the USB lead and watch movies that way. One disadvantage is the drive can only be "loaded" with content while connected though USB as there is no wifi upload option.
The drive is really easy to set up.  You press the power button on the drive and wait while the blue LED lights flash, that's the drive indicating it's generating its Wi-Fi signal, once this is done you just search it for the Seagate drive as you would any other Wi-Fi hotspot and connect as you normally would, by default the Seagate drive does not have  password protection for its connection but this can be easily added in the settings.
The two apps for android and iOS appear to be Seagate's version of a file explorer, you select the content you wish to watch or listen to, and the app will then launch the devices default video/music player.
I found that with playback on android devices using the MX player you could handle video in most formats, avi, mkv, etc etc but my iPad liked video in MP4 format, which is not a problem for me as I usually encode in that format so I can stream to my Apple TV.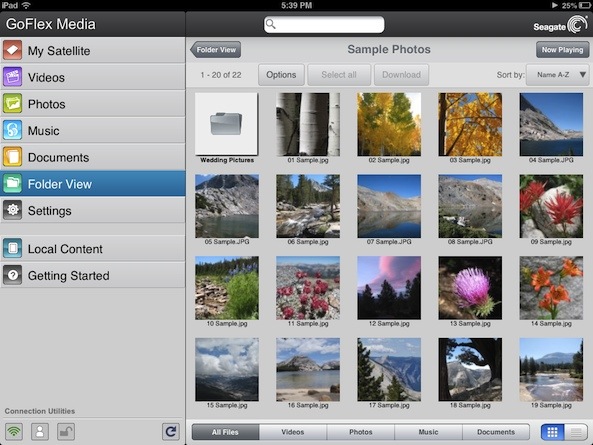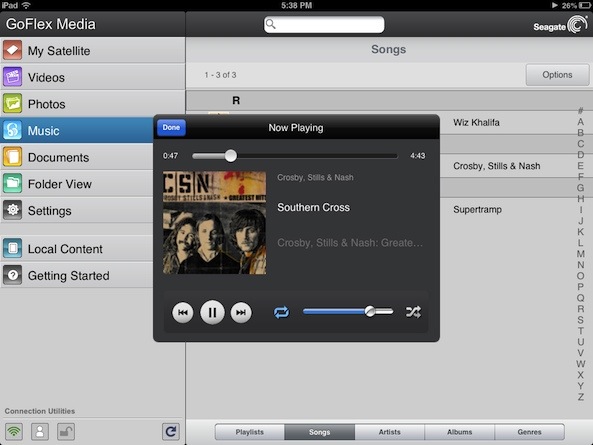 Seagate claim a battery life of between five and seven hours and to be truthfully honest I haven't tested it that far, I have watched a film about an hour and 45 minutes and the drive coped flawlessly.  Seagate also say if the drive is streaming to a number of devices this will impact on battery life
Build quality: to look at the drive is a shiny black finger print magnet with a nice chrome bevel to the edge, it is no bigger than normal portable hard drive, and appears to be very well made.
For some reason Seagate have decided to use a proprietary connection to the drive, therefore if you lose the USB/drive lead you will have to order another one from Seagate I think they should've used just a normal USB 3.0 connection rather than their own proprietary one
however when not in use the connection port is nicely hidden behind its own cover.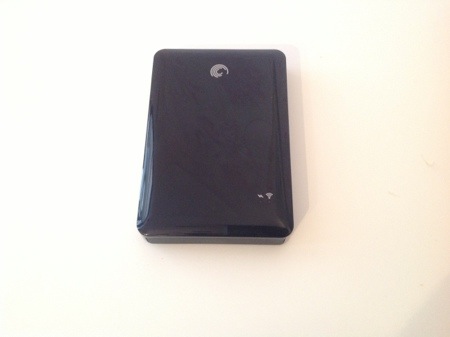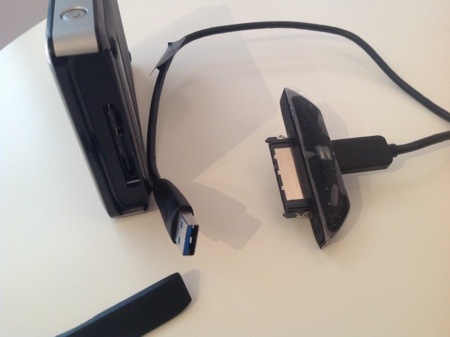 In conclusion, the drive is currently on sale at Amazon.co.uk for about £150 which is a little bit expensive when you compare it to a normal portable Seagate drive of the same size which is retailing at about £50-£60.  If you have already have the number of tablets, iPads or laptops in the family I think this drive is a great way to wirelessly stream content and media to all those devices and at the same time you can connect it to your home network to use it as a NAS drive, then when you're done unplug it and take it with you.