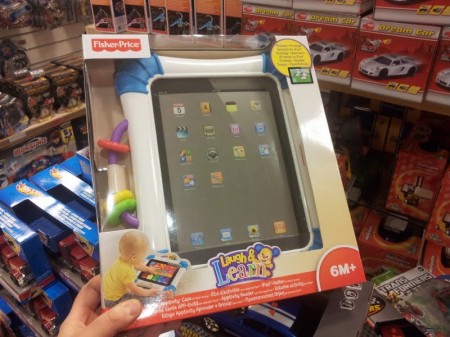 Perhaps I'm getting a little old or a bit "fuddy duddy", but this seems a bit wrong to me. Sure, my four-year-old son plays with an iPad. We restrict his time with it because, along with a Nintendo, he can quickly get addicted. However, this Fisher Price product is aimed squarely at children who can't even walk. It features three rings, a rugged outer shell and bright colours.
But is it right? The product page shows that it's suitable for children / babies of just 6 months, and helps with "sensory and motor skills". Those buying this product might say that plenty of other electronic gadgets are available for children and there's no shortage of games and apps for toddlers or babies on the App Store. The case protects "against teething, dribble, drool and unwanted pressing of the home button". Fisher Price also supply their own baby-friendly apps too.
As a tech-savvy guy, nothing much surprises me. People texting at the wheel? I see that every day on the motorway. I've even seen a guy driving with an e-reader. There's also news today that smartphones have reduced vandalism by giving kids "something to fill their time".
Should you give an advanced, expensive, internet-connected iPad to your 6 month-old baby? Should we be encouraging babies to play with tablets? With electronic screens instead of "real" toys?
The floor is open…