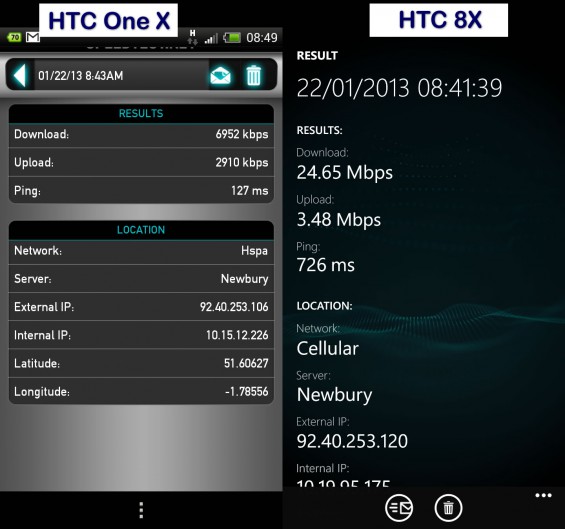 This year we're seeing a huge roll-out of the fastest version of 3G yet on many networks.
Started by Three, who have already rolled this new standard out to 50% of the population and will get to 80% by the end of March, the other networks are now joining in. But with the launch of 4G at the end of last year on EE, and other networks set to join in this year, is 3G's last hurrah worth getting?
The DC in DC-HSDPA stands for dual channel, and basically enables multiple connections – rather like MIMO WiFi and as such, it only works on an enabled phone. There is a list of compatible phones at the end of this article, but for the testing we did we used an HTC 8X.
To try and make the comparison as much about the data standard as possible, we used the same network (Three), same speedtest provider and server, same mast and and time of day. Because of the different chipsets involved its hard to do a like for like comparison, so to test the HSPA we used an HTC One X.
As you can see from the image at the top, the results were quite spectacular – just under 7Mbps for the One X and 25Mbps DC-HSDPA enabled 8X. Interestingly, upload speeds were similar at around 3Mbps, but that's a massive difference in download speeds. These results were consistent in other locations as well – around 7Mbps was about as good as the One X managed, with the 8X getting between 16-25Mbps, depending in the distance from the mast.
I was very surprised at the massive speed jump and have to say I'm sold on DC-HSDPA. Gone are the days of slow mobile broadband – its actually quicker to use my phone than a landline connection now. In practical terms though, is it worth going for DC-HSDPA?
Well the obvious beneficiary is video. Now lots of phones have 720p screens, and 1080p now becoming available, you need a good mobile signal to stream HD. Of course there's Skype and Facetime and the like. All of this demands faster connections.
In real life however, we don't often get the best speeds possible from our networks and that's where the extra headroom comes into its own – if your maximum is in excess of 20Mbps, even with less signal you can still get a decent speed.
I should point out that both those speeds were completed on the same price plan – so all the extra speed, doesn't cost anything extra (unlike 4G of course).
As you can tell, I have been hugely impressed with DC-HSDPA, and I don't think I'll get another phone that doesn't have it. The speed, current coverage and pricing (and wide range of pricing) on offer means I won't be looking at 4G for quite some time – 3G definitely isn't dead yet.
DC-HSDPA Enabled Phones and tablets 

iPhone 5 

iPad with Retina display
iPad Mini
HTC 8X
HTC 8S
HTC One X+
Sony Xperia T
Sony Xperia Z
Nokia 920
Nokia 820
Nexus 4
Samsung Ativ S