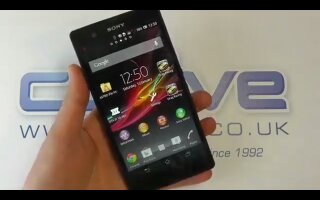 Interested in the forthcoming Sony Xperia Z? It's water resistant and comes with a 13 megapixel camera and 5″ 1080p screen.
It's all looking like a rather attractive package. Below is a hands on video, which Clove have put together, the device is expected to be on sale in the next few weeks. They've got even more on this handset in their YouTube channel, so dive in to watch other videos.
[yframe url='http://www.youtube.com/watch?v=A3XjdJgFz7Q']
The video states this is a pre-production device, and so may change before the final ship date, but this is close enough now that we should expect the final device to be very close indeed. Hopefully we'll have more information on the Xperia Z from Sony at MWC before the official launch date.
Although I'm looking forward to seeing this phone, there are already a couple of downsides for me personally.
I'm not a huge fan of Sony skins for Android
It's (currently) not possible to open the camera from the lock screen without first inputting your PIN code (iOS, Windows Phone and stock Android 4.2.1 and above can do this!)
The camera samples so far don't match the marketing hype (again, these may improve in the final version)
What are your thoughts on the device? Are you excited? Bored senseless? (no pun intended) Let us know!
Link – Clove