The Gamepad is a unique device, it is like nothing I have ever used before. In the past my mobile gaming had been done on a Nexus 7 or a Galaxy Note, so using real buttons was going to be something new for me. with the Gamepad I wanted to recapture the go anywhere gaming capabilities of early mobile gaming devices like the original Nintendo Gameboy or the Sega Game Gear, size wise you really can take the Gamepad anywhere as long as you have a bag, pocket wise it isn't happening.
I bought the Archos Gamepad just before Christmas hoping for something I could use to play games with whilst I wasn't at work. Did this happen? No it didn't if you want to know why then carry on and read my full review.
The other week I published my initial impressions about the Gamepad and to start with things were good now I've been using it for a few weeks the shine has started to wear off. So what is different now? Lets start off with my good and bad points.
Good Points
Unique style and design
Massive potential if games developers adapt their games
MicroSD slot makes the Gamepad a decent cheap media player
Custom mapping tool makes certain games easily mappable
Custom ROM community seem to be working their magic on the Gamepad
Bad Points
Horrendous Battery life
Screen quality and viewing angles
Very clicky buttons
Small internal memory makes uninstalling stuff a daily chore
Custom mapping tool makes certain game type almost impossible to map
Some basic games are stuttery due to uncommon GPU
Design
The Gamepad is made of plastic and lots of it, none of which being particularly grippy. The screen bezel also makes the screen a little bit recessed creating a lip around the edge of the screen, creating an old school screen feel, which also creates a muck collection zone. The Gamepad has a wide range of buttons and ports. With each side of the device housing a d-pad or the abxy buttons. You also get an analogue stick on each side along with a start or select button. Oh and don't forget the two shoulder buttons. As for more normal buttons and ports you get the usual onscreen tablet buttons for back, home, recent apps and a mapping tool button. Along the top of the Gamepad you get a volume rocker, the power button, a headphone jack, a mini HDMI out, a Micro USB socket and lastly hidden away around the back along bottom edge you get the MicroSD slot. The only other feature to note is the two front facing speakers on the main body beneath the buttons, which at time get obscured by your hands. They are useful for listening to music or watching video as well. Just don't expect great quality from them.
The design really is more functional than anything else. It is designed specifically for playing games and nothing else.
Here are a few shots of the Archos Gamepad:
Hardware
On paper the spec of the Gamepad is great. In real life a few little compromises by Archos have really limited what you can do with the Gamepad.
The spec of the Gamepad is as follows:
Tech Specs
| | |
| --- | --- |
| Display | • 7'': 1024×600 capacitive 5 points multitouch screen |
| Application Framework | • Android 4.1 Jelly Bean |
| Processor | • ARM CORTEXTM dual-core A9 @ 1.6GHz • GPU quad-core Mali 400 MP • 3D OpenGL (ES 2.0) |
| Capacity | • Flash Memory: 8GB* + microSD Slot (SDHC compatible up to 32GB) |
| RAM | • 1GB RAM |
| Video playback | • H.264 HD (up to [email protected] fps) • MPEG-42 HD (up to [email protected] fps) • With the above codecs, the device can play video files with the following extensions: AVI, MP4, MOV, 3GP, MPG, PS, TS, MKV, FLV |
| Audio Playback | • MP3 • WAV (PCM/ADPCM) • AAC3, AAC+ 5.13 • OGG Vorbis • FLAC |
| Photo viewer | • JPEG, BMP, PNG, GIF |
| Webcam | • Front camera |
| Interfaces | • USB 2.0: Mobile Transfer Protocol (MTP) • microSD (SDHC compatible) • mini HDMI output6(Mini HDMI / HDMI cable sold separately) |
| Wireless technologies | • Wi-Fi |
| Miscellaneous | • Built-in speaker • G-sensor • Built-in Microphone |
| Power source | • Internal: Lithium Polymer battery • External: Power adapter/charger |
| Dimensions & weight | • 229.8 x 118.7mm x 15.4mm (9''x 4.6''x 0.6'') • 330g (11.6 oz) |
The one unforgivable compromise here is the 8GB internal memory. Most big modern games can easily be over a GB in size which means you can only really fit 3 or 4 of them on your device, which means a lot of installing and uninstalling. Having a Quad Core GPU though means most games and apps fly by without a hitch. The only lag I noticed was with GPU incompatibility with certain games. The Mini HDMI port is a nice addition as you can show your friends and family whatever game your playing on the big screen.
Benchmark wise the Gamepad is comparable to other Quad Core devices.
Software
The Archos Gamepad runs Jelly Bean, well done to Archos for installing that. So out of the box you get Google Now and the fluidity of Project Butter. Archos have also installed their range of multimedia apps and their file management app. These sound like they are going to be rubbish, but I was impressed with the quality of them. You can easily navigate through network storage, so finding films or music stored on a home NAS drive.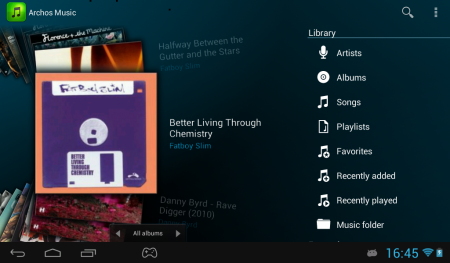 The main thing for the Gamepad is playing games and being able to map buttons for non compatible games. This is where things get complicated, there are several issues that I can't see Archos fixing within the Gamepads lifespan.
Firstly as a lot of the big impressive games are Tegra specific the Gamepad will miss out on these. Some games get a non Tegra release after a few months, which isn't ideal.
Secondly, some games developers add the relevant code into their games to use whatever hardware controller is available. Be it a Bluetooth Gamepad or a USB Xbox style controller, these games also recognise the Gamepad. Which is a good thing as you don't have to set up the controls yourself. But I found some games where they had mapped a really weird selection of buttons. Meaning you have to remap the buttons, giving you two sets of button mapping, which makes playing the game a little complex.
Thirdly, some developers don't add hardware controller code and use onscreen controls instead, which for some simple games isn't a problem. Like a platform game for instance, as you can easily map the buttons yourself. But if the game is something complicated like a first person shooter. Where you have no end of onscreen buttons, swipes and gestures to play it. You soon end up with an unplayable hard to remember selection of mapped buttons.
Lastly some games like Angry Birds or Cut The Rope are impossible to map. As you'd need a little mouse pointer to play it with a controller.
Once you get round the initial setup with each game you are in for a treat. I tried out a whole range of games, platform games, driving games, emulator games and some shooting games. It is a great device for grabbing and playing a few levels on your favourite game. In the main once set up it plays games well. Some games though like Dead Trigger crashed after a few frames of the game and some of the latest Gameloft games refused to install the extra game info so were unplayable.
The mapping tool is pretty handy and Archos have updated it a few times in the last couple of weeks. You basically have to get the game to a point where you can stop and not get killed. You then tap the button on the status bar, tap a point on the screen where the onscreen control normally appears and then you press the hardware button you want to map to the control. You can map the analog sticks as well so you can move around or look around in the same way an Xbox controller would work. Some games when mapping is being used do tend to not want to close properly. Mainly because the back button sort of doesn't exist.
Archos have released a SDK for developers to include support for the Gamepad and hopefully as time goes by people will start to use this.
Conclusion
Overall I think the Archos Gamepad could have been a great device. The internal memory basically ruins the device, with 16 or 32GB you wouldn't have to worry one bit about storage space.
The custom ROM community are working on a rooted version of the ROM with Link2SD support which will allow you to move games across to an EXT2 partition on a memory card. This means the internal memory problems would be circumvented. But why should it come down to hackers to fix problems like this?
Overall the Archos Gamepad felt like an Engineering sample from a manufacturer, the initial software had no end of bugs revolving around the buttons and the mapping software. Archos have issued updates to fix most of these problems, but one big horrific problem still exists. You try and play a game using the controls for more than an hour and then check your battery level. You'll be lucky to have much left at all. Normal touchscreen games don't drain the battery as much, but that kind of defeats the object.
I'm not sure what the future holds for the Gamepad, Archos will obviously issue more software updates, as they're quite good at that, but whether they'll release a bigger memory version or whether they'll release a "Turbo" version I just don't know. The other problem they're up against is the new Android gaming consoles, the Ouya, the NVIDIA Project Shield and the Gamestick will all offer varying degrees of competition.
Don't get me wrong here, I had a great time in testing out the Gamepad the games I could get to work were a pleasure to play, it's just the battery life and hit and miss nature of the controls means I'd prefer to pickup my Note II or Nexus 7 to play a game.
If you want to get yourself an Archos Gamepad then head over to the Archos site here. They currently cost £129.9 plus postage which I think is about right.