Different people want different things from their smartphone.
There are those that view their device as purely functional.  It is there purely to make calls, do a little surfing and reply to emails.
Then there are those that cannot be separated from their mobile device, who feel that it is to there to be accessorised and filled with apps that make it beautiful.
Terra Time is squarely for those that fall into the latter category.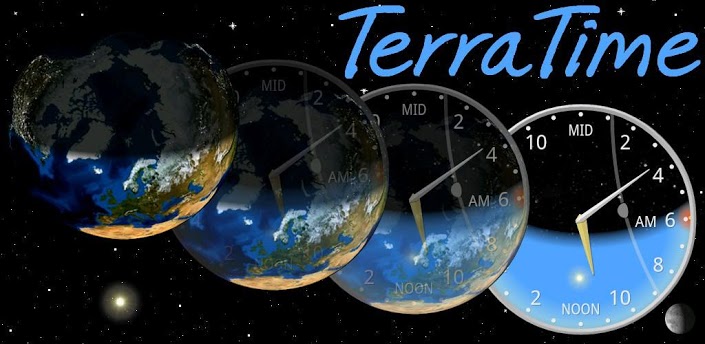 Terra Time is almost an amalgamation of several apps all into one. It contains a live wallpaper, a clock widget and a globe widget as well as the same functions being accessible from within the app itself.
The app is visually stunning, it takes real time satellite cloud imagery and global ice coverage imagery and the image displayed reflects the day/night time too.
The day/night clock also shows sunrise and sunset times, the solar noon time and the moon rise and setting times.
The live wallpaper can be made up of either a globe showing current ice/cloud cover, night shadows and city lights or a map showing the same.
The overall beauty of the app is well, its beauty!  Graphically it is superb with a background of constantly moving stars and settings galore.  The maps are beautifully presented and animations are slick and smooth.
As an aid to beautifying your Android device, Terra Time is second to none and highly recommended!
Terra Time is available from Google Play for any device running Android 2.0 or higher and is priced at £1.99, purchase and download here