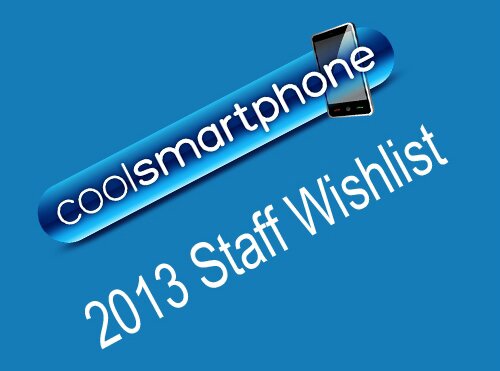 Let's face it, 2012 was a year of veritable delights.  From the Samsung Galaxy Note 2 to the iPad Mini the mobile world was once again a technology lovers paradise and 2013 promises to be no different.
I've had a few wishes for the world of mobile technology for a while now and so to continue the trend of the Coolsmartphone writers and in no particular order of preference, here they are written down ready for the manufacturers to take note of for their new devices for 2013.
1) Stock Android on Handsets
Anyone who has had the pleasure of using a Nexus device knows just how good stock Android really is.  With the release of 4.2 Jellybean the need for custom skins has long gone and manufacturers really should see this and rather than spend time and money on Touchwiz or Sense release their handsets with Android the way it is meant to be.
2) Timely Android Updates
Many words have been written both here and on other sites about the length of time that it takes to get the Android updates out of the door.  Everyone wants the latest and most up to date handset, its up to the device manufacturers to get their act together and provide a decent update cycle.
3) A handset with a decent QWERTY keyboard
Once again this has been covered before but why oh why can we not have a decent, up to date top spec device with a slide out QWERTY keyboard for everyday use?
4) Widgets for iOS
One of the things that stops me from getting an Apple device is the lack of customisability (is that even a word?).  Chuck the option of widgets into iOS and all of a sudden it would seem a lot more appealing and the possibility of an iPhone becomes a very real one.
5) The ability to transfer contacts, calendars, apps and other stuff cross platform
Ok, this is never going to happen but hey, its my wishlist.
I want to be able to buy an Android device, load it up with apps and all my contacts etc but also have the option to have the equivalent purchased app on say iOS.  I want to be able to download all of my calendars from Google to iOS or to Windows Phone.  I want this ability built in to each OS and not have to put up with some botched solution.  Dreamland I know but I can wish!
6) For BB10 to be a success
I have a certain fondness for Blackberry.  They have made some good hardware at times and I loved both my Pearl and my Bold,  It would be a shame for them to disappear off the radar into obscurity so please RIM, get this one right!!
and finally,
7) Google, please get a device launch right!
The Nexus 7 and the Nexus 4.  Both great devices but both totally screwed up launches.  Come on Google, surely it can't be beyond your vast capabilities to launch a device with sufficient numbers and a decent supply chain.  Apple make it look easy, get your act together and get it sorted!!!