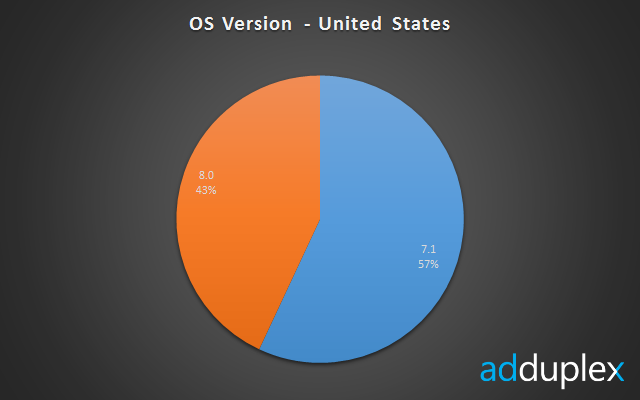 Statistics on Windows Phone sales have always been hard to get, with Microsoft playing everything very close to their chest.
Advertising platform AdDuplex have used their spread across a very large spectrum of Windows Phone devices to collect their own statistics on the most popular devices, and versions of the operating system – broken down into 7 or 8.
The results are a slightly surprising to the sceptics (I'll include myself as one of those), but show that Windows Phone 8 is on a serious charge at the moment, and has real traction, especially in the US.
Just looking at the US and the split between the OS versions, Windows Phone 8 has nearly caught Windows Phone 7 already, with 43% vs 57%! That's quite an achievement for an OS that has only been available for 3 months, against the incumbent that has been going for 2 years, along with a semi-relaunch when Nokia joined the part.
So what's driving this?
Well the answer does seem to be Nokia, which highlights just how vital Nokia are to Microsoft – without them the OS doesn't seem to stand a chance.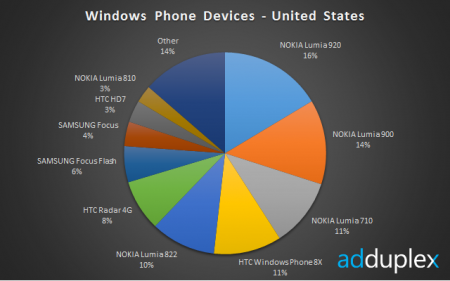 Nokia devices dominate more than half of all Windows Phone devices in the US, but there is a particularly impressive rise for the 920. This really seems to be Windows Phone's golden child, as its limited to one carrier in the US (just like the UK), but it has already risen to 16% of all Windows Phone devices in the US, which is up from 5% last month.
Here in the UK the 920 hasn't taken the same market share, but has reviewed very favourably, so it will be interesting to see what happens now the EE exclusive deal is over. In the US some more "favourably priced" contracts have shown how even with one partner it is very popular, so we will be very interested to see how it grows on other networks over here.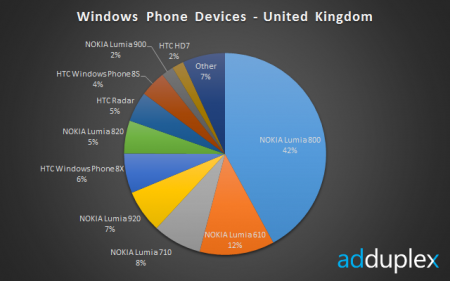 Aside from the 920 though, Nokia have an even bigger impact on Windows Phone market, accounting for more than 3/4 of the UK Windows Phone market. The Lumia 800, which is now very reasonably price, accounts for a massive 42% in the UK.
The company that haven't yet made the impact I would have expected, is HTC. They really are having a tough time of it, but they are the best of the rest both in the US and UK, and their market share is higher than their comparative Android market share, so its not all bad news by any means.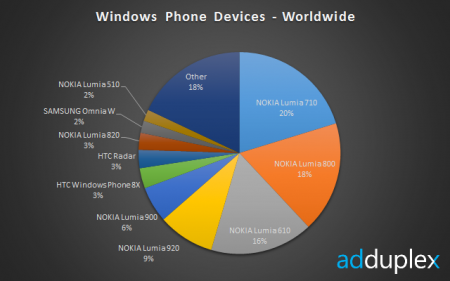 Overall, that is worldwide, there is a greater spread of devices, as emerging markets have taken well to the cheaper Windows Phone devices, but Nokia is still the run away winner.
It has to be said, if there is any truth in the rumours that Nokia could adopt Android, even in part, Microsoft are in massive, massive trouble. There does seem to be some truth in Microsoft's claim that Windows Phone 8 is outselling Windows Phone 7 by a factor of 4 (the figures suggest 3.5x, but if you're generous and round up, its certainly not a pie in the sky claim), and the new OS seems to be off to a good start.
Link – AdDuplex blog