Just in case you're wondering why we're running an article on Samsung Galaxy Note accessories, then you need to remember that the original generation Samsung Galaxy Note may have been replaced, but the trusty old behemoth is still selling by the oversized bucket load on some of the less expensive tariffs, and it's also very popular on the second hand market.
Whilst waiting over a month to get my hands on my Nexus 4 I got frustrated and bought myself a used Galaxy Note to see what the fuss was about. I have to admit to falling in love with the beast, and I've been showering it with gifts ever since. I thought it would be a good excuse for a round-up of the genuine Samsung accessories I've indulged in.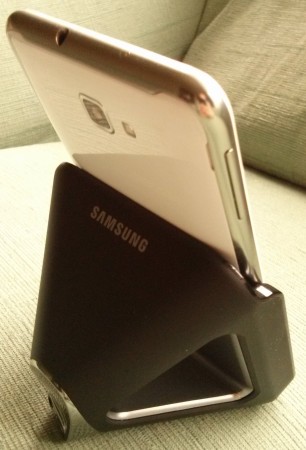 Samsung Galaxy Note Desktop Dock
The desktop dock is a really smart, funky looking piece of kit. The shape is difficult to describe, but my best attempt is a rounded-off pyramid that's been hollowed out and only the structure left, then put on its side. Told you it was difficult! Take a look at the photos and you'll see what I mean.
The front of the dock is moulded perfectly, so that the phone slides in and slots onto the micro USB connector. Once in, the phone changes to 'dock mode' which brings up a new homescreen with an agenda, calendar, music player and customisable shortcuts. If music or videos are played when docked, the phone will use the docks built-in speaker, which sounds a bit naff. However, there are sockets on the back for connecting headphones/line out and micro USB power.
I use this dock to connect my Note to my hi-fi for listening to MP3s and streaming from Spotify, whilst charging at the same time.
I'm very impressed with the desktop dock; it's very well built, looks great and does exactly what I want from it. Couple that with the dock mode that Samsung have included in the operating system and the ability to sync the phone with your computer makes this a really worthwhile investment.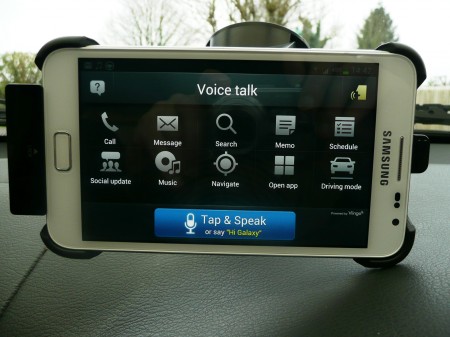 Samsung Galaxy Note Car Dock
This is just as sturdy and well built as the desktop dock. It holds the handset very firmly, the speaker out and mini USB sockets are easy to get to, and the adjustment on the arm is great. I like to have the Note in landscape mode, where it felt very safe, unlike some of the 'squeeze together' style docks that give the impression they'll let go if you corner too fast when in landscape mode.
Another feature I like is that the cradle part can be removed with the phone still in place, and there are cut-outs in the back so the camera and speaker can still be used.
Anyway, I won't go too in depth with this one, as James did a very good review of it a while ago, which can be found here.
I will add that I occasionally have a problem where the phone decides to go into normal hands free mode, rather than using the line out socket to pipe the caller's voice through my car stereo. I can't be sure if this is a software glitch or something to do with the dock, so I won't pin the blame soley on the dock.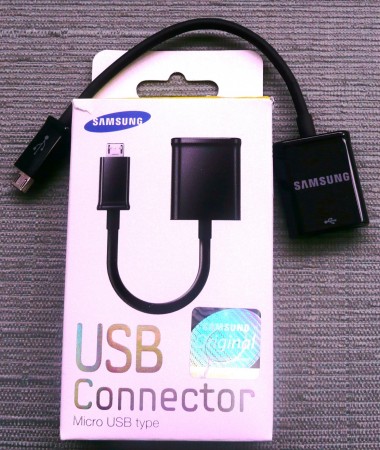 Samsung USB Connector
This is essentially a little cable with a microUSB connector on one end and a full size female USB connector on the other. However, it really is a nice accessory if, like me, you use a pen drive on a regular basis. All that's needed is to plug the drive into one end and then the phone into the other and it appears in the 'My Files' app on the phone.
Please note that the pen drive needs to be formatted as FAT32, and 32GB maximum.
Another use for the USB connector is for printing, which sounds great. The trouble is that I don't own a printer that's compatible with it. Oh well, maybe that should be next on my shopping list!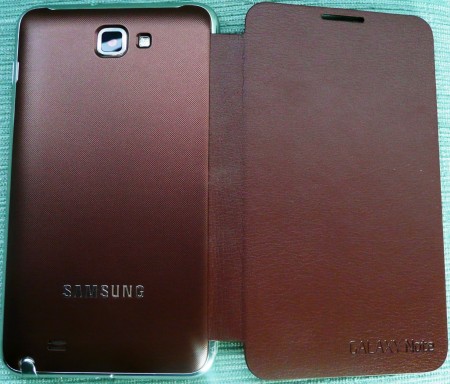 Samsung Galaxy Note Flipcase
The leather flip case is by far the classiest mobile phone case I've seen. Rather than enveloping the handset, it becomes part of it.
There are two halves to the case: one side is the leather flap that flips over the screen to protect it when not in use, and the other side is a replacement battery cover. The two are joined by a flexible leather strip that acts as a hinge.
Fitting is done by simply removing your standard battery cover, and clipping this one in its place.
The leather part can be folded all the way back on itself, so when using the phone it's barely noticeable.
The build quality, once again, is exceptional.
There is, however, one big downside for me – when this case is fitted it makes the phone unusable in either the car or desk docks. This means that one would have to remove it and fit the old battery cover before docking. Not only is this a pain, I'm not sure how long the little plastic clips will last if this is done too often.


Samsung Galaxy Note Leather Pouch Case
It's simple. It's a pouch. Two bits of leather sewn together, one with Galaxy Note imprinted in it, the other with a small hole that lines up with the phone's speaker.
What can I say, it's snug. Very snug. It's lovely and soft on the inside. It's my most used Galaxy Note accessory.
All of the accessories I've bought are available direct from Samsung, however, I suggest shopping around as I got mine at a fraction of the retail prices by using Amazon Marketplace and eBay.