So now christmas is over and things starting to get back to normal it looks like Google have more stock of the Nexus 10 16GB version available as the store has changed from the normal SOLD OUT message to 'SHIPS SOON' with a message stating it will ship in less than one week from your order
The 32GB version continues to be out of stock but if you have a spare £319.00 and think the 16GB is enough then get your order in quick!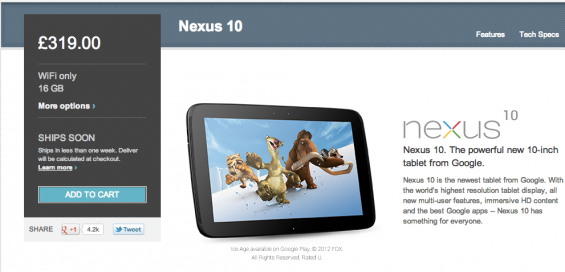 The Nexus 10 is the latest android tablet from Google and is made by Samsung with some pretty awesome specs from 16 or 32GB of storage to the stunning HD screen with 2560 by 1600 pixels making it the highest resolution tablet screen there is even beating the Retina display seen on the latest iPad 4.
Having just ordered one myself expect to see an unboxing and full review soon.
Link: Google Play