Phone protection…. there's two schools of thought regarding this. Some people like to put their phone in a nice protective case, while others like to keep their phone naked.
I like the middle ground. A slim bumper case and a screen protector. I know the sales man in the store took his keys out and rubbed them over the phone screen saying, "Look mate its monkey glass"… or gorilla glass …. or something, but I'd rather not take chances.
In the past I have normally visited an online retailer and purchased 6 screen protectors for a small amount. After 10 days from China they arrive, I usually wreck 2 or 3 trying to get them to fit. After a few hours I'll fit one with just a few minor air bubbles or dust. But then, after just a week it looks like they have been cleaned with a Brillo pad.
This time I thought I would take the plunge and purchase a "decent" screen protector for my Samsung Galaxy S3. After doing some online research I decided on the Zagg invisible shield which I got from my local Carphone Warehouse for £14.99, you can get them a little cheaper online but I couldn't wait for the delivery over the Christmas Holidays.
One advantage of the Invisible Shield is the 25 year guarantee. If it does get scratched or damaged I should be able to claim a replacement (watch this space)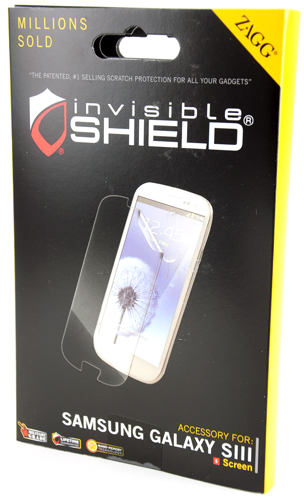 In the packaging is the screen protector, a cleaning cloth, some application fluid (which turns out to be mild baby shampoo and water) a squeegee and some instructions.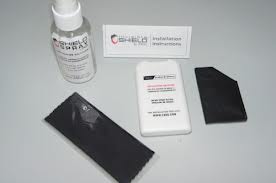 Firstly clean the screen. I did this using Brasso Gadget cleaner which I picked up at the NEC Gadget show last year. It cleans screens really well and reduces the finger marks afterwards.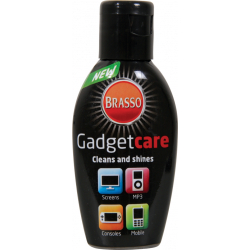 The instructions tell you to spray your fingers with the solution before picking up the protection film, this stops any finger marks in the film. You then moisten the adhesive side of the film. This will allow you to easily reposition the film if needed (tip here where the instructions state "moisten" insert the word "drench"). The film then slides around the screen quite easily and, once in position, the excess solution can be removed using the squeegee.
Now leave your phone for a few hours to allow it to dry out. This process took me about 30 mins to complete and when I'd finshed it did appear to have some bubbles under the screen protector. "Typical", I thought, "I've paid £15 for a protector and I've managed to make a pigs ear of it."
The following morning I picked my phone up and there was not a bubble or blemish in sight, the protector feels really nice under the finger and I don't know if it's just me but doesn't seem to pick up fingerprints as easily, as far as being scratch resistant only time will tell but then I can try the guarantee out.
I suppose it's the age old adage you do get what you pay for.
Link – Zagg Invisible Shield