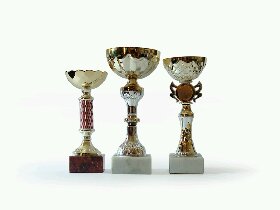 It's been another fantastic year in the smartphone world, with new devices seemingly appearing on a monthly basis. Sales wise, its been dominated by the usual suspects  (Samsung & Apple), but they've been far from the only show in town.
After much heated debate (filling in a Google Docs spreadsheet), we've come up with our list of award winners for the year under various categories. It was by no means a scientific process, and we welcome your comments as to what you feel the year's highlight were.
Best phone – Google Nexus 4
Google's latest and greatest is a beast of a phone. Fully specced up, sporting an awesome display, and running the stock Android 4.2, it's only a massive battery away from being perfect. The only downer is the launch, but we'll get to that…
High Recommended: Samsung Galaxy Note 2
Best tablet – Google Nexus 7
Beating out the iPad 4 and Mini, Google's first Nexus tablet wins our award for 2012. Although the mini tablet market is looking crowded now, it's easy to forget how amazing it was at the time to be able to get your hands on a quality device for just £159. The debate is still raging over whether it's a mini tablet or a large phone, but there's no dispute over it sheer awesomeness.
Honourable mention – Microsoft Surface, for managing to get a one whole vote amongst the team! Can you guess who it was from?
 Best network – Three
In a year where other Networks have made various fumbles (*cough* EE!), Three have seemingly gone from strength to strength. Call it Faux G if you want, but with real world speeds reaching 20Mbps, Three's DC-HSDPA network is a thing of beauty … and speed…. Couple it with true AYCE data and we have a true winner.
Best iOS Apps/Games
With the App Store continuing to go from strength to strength in 2012, we struggled to pick a winner from the many strong candidates released this year.
Highly recommended apps: Tweetbot, Textastic, Google Maps, Keynote, Sling Player, Sky+, Netflix, LogMeIn, iMovie, Chrome, Virgin Media TV Anywhere
Highly recommended games: Letterpress, Score!, Simpsons Tapped Out, Pudding Monsters, Angry Birds Star Wars, GTA Vice City, Bad Piggies
Best Android Apps/Games
The Google Play store has also featured a veritable treasure trove of quality apps and games in 2012.
Highly recommended apps: Chrome, Nova Launcher, Falcon Pro, Netflix, Pocket, Google Music, Plex, Zeebox
Highly recommended games: Need for Speed, Ingress, Granny Smith, Nova 3, Dead Trigger, Ski Safari, Hill Climb Racing, Bad Piggies, Angry Birds Star Wars
Best Windows Phone Apps/Games
Windows Phone has also had a strong year, with the Marketplace having passed the 100,000 app figure back in June.
Highly recommended apps: Groovster, Netflix, Nextgen Reader, Nokia Drive, Medoh
Highly recommended games: Beards and Beaks, Wordament
Best Accessory – Pebble Watch
Even not being on sale wasn't enough to stop the Pebble from winning the best accessory category. The Kickstarter project has masses of potential, and we're waiting with baited breath for it to finally land. The promise of customisable watchfaces, downloadable apps, bluetooth syncing, notifications and much more is an exciting prospect.
Worst Launch – Apple Maps
Although now alleviated by the release of Google Maps, it's fair to say that Apple's move to its own mapping solution in iOS 6 caused a bit of a media frenzy. Complaints about Mapgate were all over the Twittersphere, and even led to the creation of a dedicated Tumblr. Tim Cook himself has since apologised publically, and promised rapid improvements.
Worst network & biggest disappointment – EE
Congratulations to EE, our one any only double award winner! Given its chosen name, it was perhaps inevitable that EE would end up offering far from everything, and in only a few places. The initial wait for information on plans and pricing seemed to last an age. And once they were announced, they hardly set the world alight. With £36 netting you a huge(ly disappointing) 500MB of 4G data (on a two year contract), you'd be excused for wondering what the fuss was about. Let's hope that the rollout of 4G across the other major networks pushes EE to try harder next year.
Biggest Fail – Nexus 4 launch
Although technically won by EE, we thought we'd share the love around and give the award for biggest fail to Google. The Nexus 4 launch has been an exemplary lesson in how not to release a new product. Showing that it learned not an iota from the also poor Nexus 7 launch, Google preceded to produce our favourite smartphone of the year, and then provide around 17 units for launch. This was then followed by crashing websites, a total lack of information, delayed shipments and then the release of 17 more units before another sell out.
Honorable mention: Apple Maps, which actually came second (above Google), but has already been recognised elsewhere.
The needs a kick up  the backside award – EE
Make that triple award winner!
 And that concludes our 2012 awards, please feel free to have your say in the comments. On behalf of the whole team here at Coolsmartphone, I'd like to wish you all a very happy and prosperous 2013.