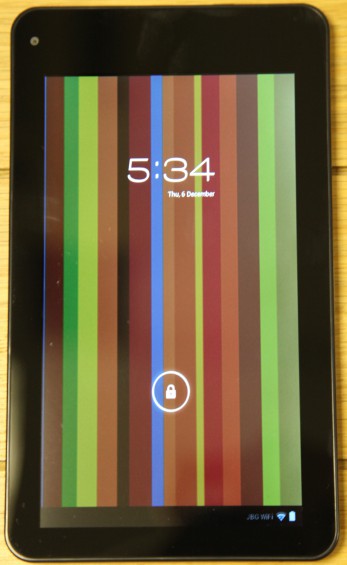 What can you get for £80 these days? The surprising answer is an Android Ice Cream Sandwich tablet with Play store compatibility from a British brand.
Sub £100 tablets are nothing new, but on the whole they're poorly built, slow and sold under a name nobody's has ever heard of. But Gemini are looking to change all that with the JoyTab GEM7008.
Good points
Price
Build quality
Google Play store compatibility
MicroSD card slot.
Virtually no skinning of Android
Bad points
Screen viewing angles
Screen resolution
Lack of main camera
Awkward volume controls
Design
The JoyTab is impressive, even before you open the box. The sturdy, colourful and informative packaging gives the impression that it contains a quality bit of kit. Which it does!
The look and feel of the metallic grey back and gloss black screen bezel is professional and classy. More than one person has commented whilst passing about how nice it looks.
All of the interfaces are tucked up on one of the short edges of the unit, giving you access to the power button, USB/charger port, microSD card slot and headphone socket. Despite their proximity to each other I didn't find them in any way clumsy or difficult to use.
Hardware
Gem7008 RRP £79.99
CPU: ARM Cortex A8 1.2Ghz (A13)
Memory: 512MB DDR3 Memory
Storage: 8GB built-in, upgradeable to 32GB with Micro SD Card
Display: LCD Capacitive Multi-Touch Screen/7inch TFT LCD – 800 x 480
Connectivity: Micro USB Port, Micro SD
Audio: Built-in 1W Speaker, Built-in Mic, 3.5mm Stereo Earphone Jack
Wireless Network: Wi-Fi 802.11b/g
Camera: Front 0.3 Megapixel
Video Supported: AVI, H.264 DIVX, XVID, rm, rmvb, MKV, WMV, MOV, MP4, MPEG, FLV.HD 1080P max.
Music Supported: MP3, WMA, MP2, OGG, AAC, M4A, FLAC, 3GP, WAV
Battery: Up to 4 hours (2500mAh)
Gyroscope: Built in G sensor for gaming and automatic screen rotation
OS: Google Android 4.0 (Ice Cream Sandwich)
Internet Services: Web Browser, JAVA, YouTube, Email, HTML5, Abobe Flash
Utilities: Calendar, Alarm Clock, Calculator, Recorder, Notepad, Picture Viewer
Dimensions and weight: (W) 110mm x (H) 195.1mm x (D) 8.6mm / 267g
Performance
As you can see from the specs, I was never going to get Nexus 7 or iPad Mini performance, but having said that I found the performance to be nippy and not frustrating, as long as I was sensible about what I asked of it.
For example, surfing the net, watching normal quality YouTube videos and playing undemanding games, such as the ubiquitous Angry Birds, was all perfectly fine.
Throwing a first person shooter at it caused it some problems though. I chose the excellent Nova 3, thinking it would bomb out, but in all fairness to the JoyTab, it loaded up and played the introduction sequence. Game play was impossible, but it had exceeded my expectations even by getting that far.
There was, however, one area of the Gemini that didn't perform: the screen.
The usable viewing angle was, well, straight on. If I deviated from that at all things took on a silvery sheen, making reading text impossible and a generally unpleasant experience. When I did hit the sweet spot things were slightly squashed; circles become ovals, and people got thinner and taller!
Features
Readers of my other reviews will notice that I have a bee in my bonnet about expandable memory slots: I like them, but they're disappearing from our devices. I'm very happy to report that, despite its diminutive price, Gemini have included a MicroSD slot! This means that for an extra £15 or so you can get a 32GB card and keep thousands of MP3s and some feature films with you wherever you go. Try doing that with an entry level Nexus 7!
Skype calls and the like were made easy with the front facing camera. 0.3 Megapixel may sound a bit rubbish when compared to the super high-res cameras out there, but let's admit now that for a face-to-face chat with Aunt Maude in America there's no need for feature film quality anyway. The lack of a main shooter is a shame, but one has to remember the price of the Gemini and the features that have to be left out to achieve this.
Software
There's very little in the way of bundled software on the JoyTAB, but there is one thing that more than makes up for that: the full compatibility with the Google Play store.
For the uninitiated, Google set out a series of requirements a manufacturer has to meet before it will let them add access to the Play store on their devices. The inclusion of the Play store is by no means guaranteed on devices at this price point, so it's a major plus to find it on the Gemini.
The other nice thing is that there's very little change from the stock Android experience. I'm not a fan of the sort of skins that the likes of HTC and Samsung add to Android, I find that they can slow down anything but very high spec devices and are generally just a waste of effort. Here Gemini has done very little modifying, and I believe that's part of the secret to its nippiness.
Misc
One minor niggle that I found was that there were no hardware volume control buttons. Instead Gemini have added them as soft keys to the status bar. This is all very well until an app decides to go full screen and hide the status bar! This is a particular problem in video apps where volume control and full screen are mutually complementary. This is a minor point, but such a shame for the cost saving of a simple rocker switch.
Gemini are a British based company, and a proud of their customer service and after sales support. They have a well laid out forum with sections for each of their devices, as well as direct email support. I mention this because any form of customer support for devices in this price bracket is virtually non-existent.
Conclusion
I have to applaud Gemini in their decision to bring quality to an area of the market that is hit-and-miss at best. I'm impressed with the build qualilty and especially the performance of the hardware, which is only let down by the poor display.
The inclusion of the Google Play store is a big selling point for the GEM7008, and should not be underestimated.
On the whole I would recommend this as a first time tablet for someone who really can't afford to take the plunge at over £100, or something for the kids to use for games and videos so that the iPad doesn't get covered in Play-Doh!
Many thanks to Gemini Devices and Pick 'n' Mix PR for the loan of the JoyTAB GEM7008.