Recently, I've found myself needing to replace my ageing bluetooth headphones. The pads are wearing out, and Sony don't make them any more.
Whilst there have been quite a few pairs of headphones that have caught my eye recently, my requirements dictated that I wanted something with
Excellent sound quality
Stereo Bluetooth capability (with controls)
Also works without stereo bluetooth using a wired connection
Has a mic that isn't awful, and can be used with Siri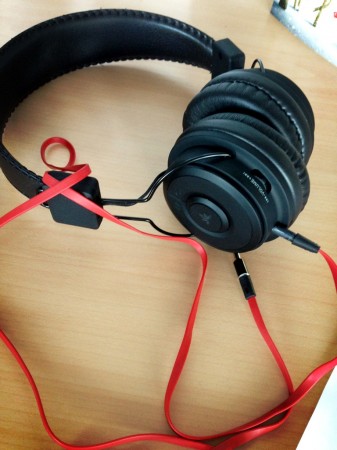 The Avantree unit ticks all of these boxes, so I thought I'd give them a go. I was aware these are under £30 and wasn't expecting miracles, but I thought they'd suffice for my daily cycling trip to work (along a cycle path,biking through traffic with headphones on is asking for trouble!).
Firstly, for a very cheap pair of cans they seem well put together. They're not advertised as waterproof, but with the weather this last week being so awful, I've had no choice but to get them wet. They've continued to work fine. I believe electronics manufactured for use outside in this country should be able to put up with a splashing of the wet stuff, else they'd sit in a drawer for a good portion of the year.
They sound great. I'm no expert, but I know what good quality music sounds like. The sound produced using a stereo Bluetooth connection (A2DP) on my iPhone 5 is good, but even better using the wired connection. There is a surprising amount of bass, again for such a cheap set up.
Pairing is easy, and the controls are easy to reach when using Bluetooth mode. The leaf symbol flashed blue when Bluetooth is activated, red when they're in pairing mode.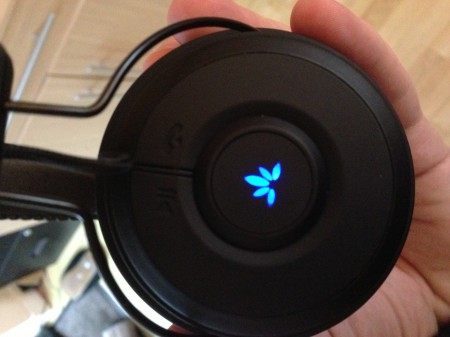 My only gripe is the rocker switch to adjust volume / skip tracks is a bit fiddly, the other buttons are nice and large though.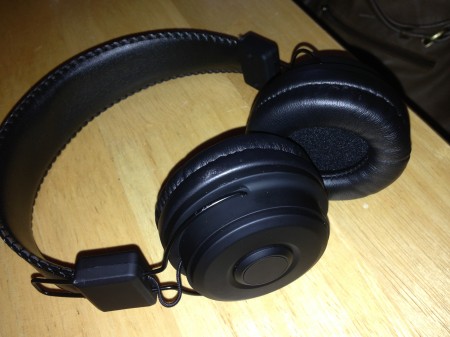 It's difficult to comment on durability etc. when I've only been using these for a week, but so far they seem very well made. They fit very comfortably on the head, and although they lack any 'noise cancelling' tech, by virtue of each side 'cupping' over the ear, they naturally block out some sound. Very useful when the air is whizzing past, or your colleagues are annoyingly loud at work. There is very little leakage from the headphones, as confirmed by the lack of objects thrown at me last week in the office, whilst banging out some Skrillex/Deadmau5.
I took the oppurtunity to compare these to a friend's 'Beats' headphones. Whilst hardly the pinacle of sound quality, they are popular, and FOUR times the price of these. I have to say, hand on heart, I prefer the Avantrees. They're less ostentatious, they sound about as good, and cost WAAAAAAY less. Oh, and they have bluetooth!
Although personally I won't be using this functionality much, call quality on these 'phones was good. The caller could here me fine, although they could tell I was using a headset. the one problem with this type of headset and phone calls (or Siri) is that the microphone is on one side or other, rather than on a cable closer to your mouth. This means you're more 'distant' in good conditions, but when you're outside in the wind? Forget it.  If you intend to make a lot of calls, I would recommend getting headphones with the mic on a lead, as per the official Apple ones.
During the process of reviewing these, I've noticed Mobilefun have DROPPED the price to a stunning £26-99. For that price, if you are considering somethiing along these lines, I can heartlily recommend them.
I'm fairly picky when it comes to headphones and have quite a few pairs of cheap ones, that don't get used, but the Avantrees have been with me every day since they arrived. I'm very impressed, and I think you will be too.
If you have any questions please drop me a line – my contact details are at the bottom of this post.
Thanks  as always to Mobilefun for providing the review sample. They have a range of headphones and lots of other goodies.