There have been quite a few bits of information floating about online recently about the new flagship phone from Samsung being the S4 and some even expected an announcement at CES in just a few weeks which have since been confirmed as false.
However it has now been said that MWC 2013 will be the place we will get to see this new top spec device from Samsung.
Over on What Mobile Forums a post has been done by a user called 'geeky168' and he has gone into quite a lot of detail on expected specifications from a large 5 inch screen to 13 megapixel camera and running the latest Android 5.0 OS.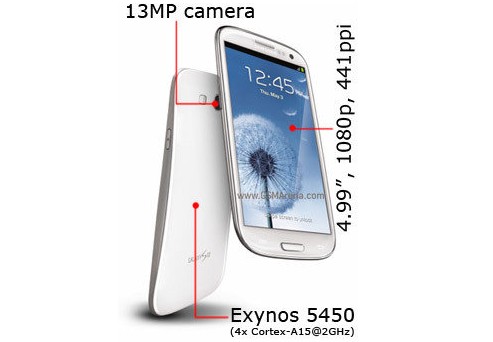 On his post he says
Last week, we have talked about that Samsung was about to release its Galaxy S 4 in March 2013 according to the release date of Galaxy S 3. However, Samsung seems to change the traditional arrange because its competitor Apple has accelerated the speed of the new product renewal. So, Samsung has to change the release date of Galaxy S 4 in February 2013 in advance. What's more, the MWC2013 will be held on February 2013, so this time is very likely. Samsung Galaxy S 4 will be available with 5.0-inch FHD touch screen, quad-core processor, 13MP camera and Android 5.0.

It said that Samsung Galaxy S 4 will be equipped with a 5.0-inch FHD touch screen, not the soft screen. And in term of hardware, it will have a large promotion. It will be provided with Samsung Exynos 5450 quad-core processor, which is based on Cortex-A15 frame and 28nm workmanship, and its main frequency can reach at 2.0GHz, and will be built-in Mali 658 GPU, whose performance will be 3-5 times of the former Mali T604.

And in term of the camera ability, Samsung Galaxy S 4 will be built in a 13MP main camera. As to the improvements on photography ability, it is unknown yet.

Another special feature on Samsung Galaxy S 4 is the Android 5.0 system, which is called Key Lime Pie, and hasn't published yet. It means that Samsung Galaxy S 4 will be released in February, but its list time must be in May, because the Android 5.0 was exposed to release in May 2013.
Of course this is all still rumor as there has been no official word yet on the specifications for the S4 but the details above do look like they could be seen in the new device and all look convincing.
We will be live at MWC in Barcelona to see all the announcements as they are made so keep a look out on CoolSmartPhone for all the breaking news as it happens!
Link: What Mobile