Tablets have come a long way since they first appeared. No-one can argue that the iPad has played a massive part and every other manufacturer is now trying to play catchup. With competition comes innovation and that has helped to bring screen sizes down. The 10″ tablets are now accompanied by 7″ versions which many users prefer, myself included.
Vodafone have now paired with Lenovo to offer their Smart Tab 2 on both pay monthly contracts and PAYG. Stump up £150 and you get a tablet without contract. A £5 top-up will give you 250MB of data. If you want to sign up long term then you can pay £20 a month for 24 months and an up front fee of £29. That'll get you 2GB a month.
Storage comes in the form of 4GB built-in. You also get a Micro SD slot for additional storage to be added if you wish.
[yframe url='http://www.youtube.com/watch?v=G3RFkatHVBQ']
[yframe url='http://www.youtube.com/watch?v=jViiAN3yA2o']
Now onto the specs….
Android 4.0.4 Ice Cream Sandwich
1024 x 600 pixel 7 inch screen
2 Megapixel Camera
3G HSPA Data
1Ghz Processor
Bluetooth, WiFi & GPS
4GB Storage
3550mAh Battery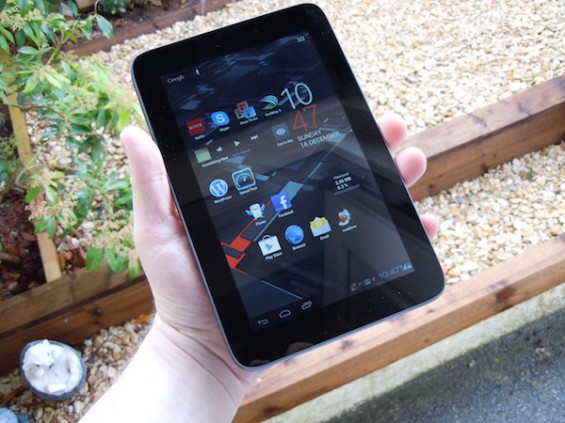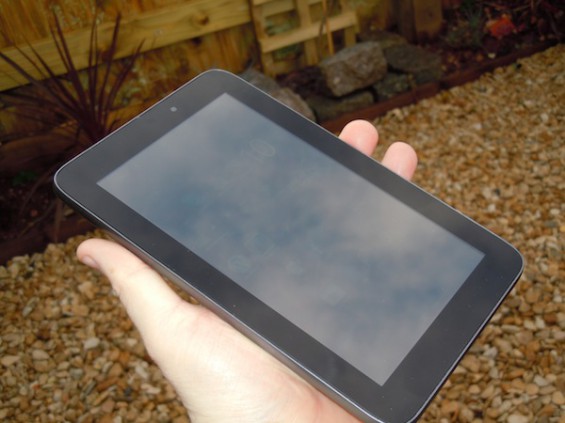 On the front at the top is the front facing camera. This is VGA resolution and will be OK for the occasional Skype call. However, considering most video calling cameras are at least 1.3 megapixels, expect the overall quality to be poor, although usable.
The 7″ display has a resolution of 1024 by 600 pixels. Unfortunately this is one of the worst screens I've seen or used on a tablet. It's not the resolution – it's the fact that you can't view the screen at any different angles without a horrible white blur from the back light washing out the display. You have to look at the Smart Tab 2 straight on… any tilting makes it a real pain to use.
Below the screen is just the black frame, there are no buttons here as all navigation buttons are on the screen itself.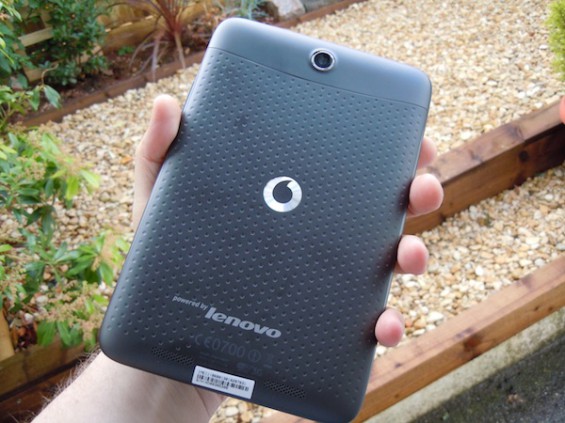 On the back you have a very basic 2 megapixel camera… and when I say very basic I mean VERY basic. There is no LED flash to help in low lighting conditions and the overall performance was very poor to say the least.  You can see for yourself in some example photos below…
In the middle there's a large silver Vodafone logo and, at the bottom, the 'Powered by Lenovo' logo.
There's two speakers at the bottom which did perform quite well even at maximum volume. If music is something you want to use on a tablet then this would work fine.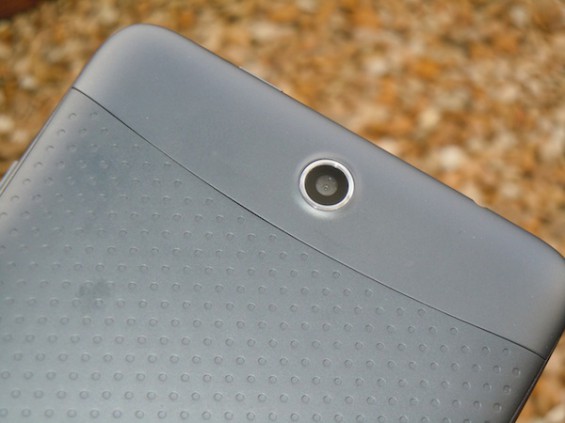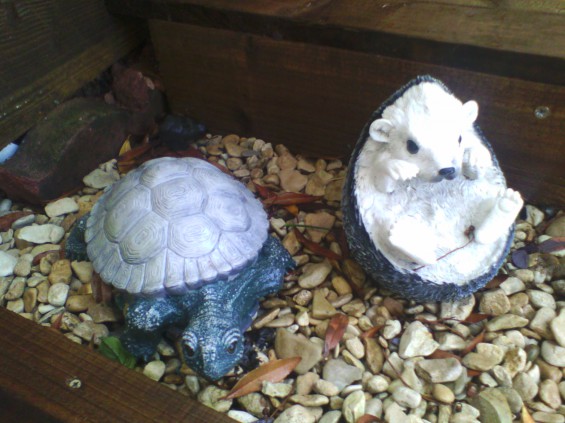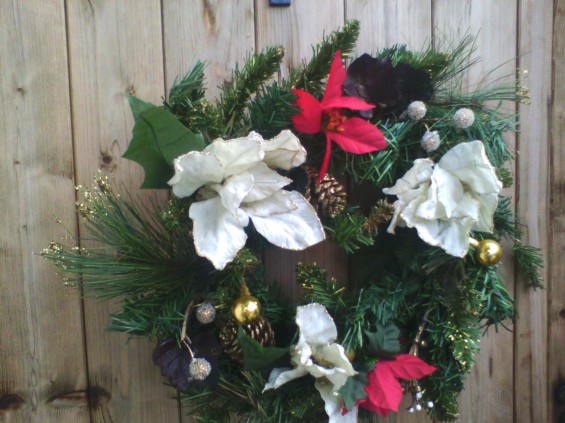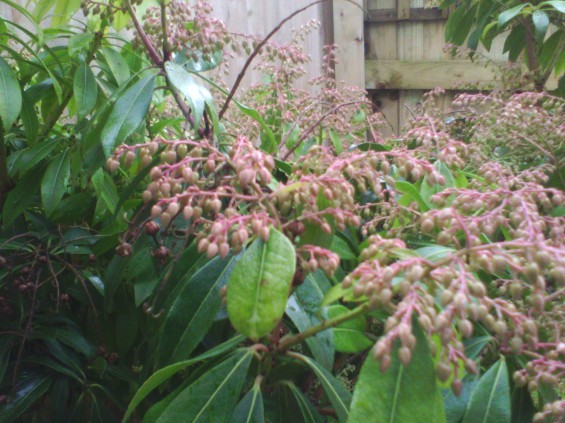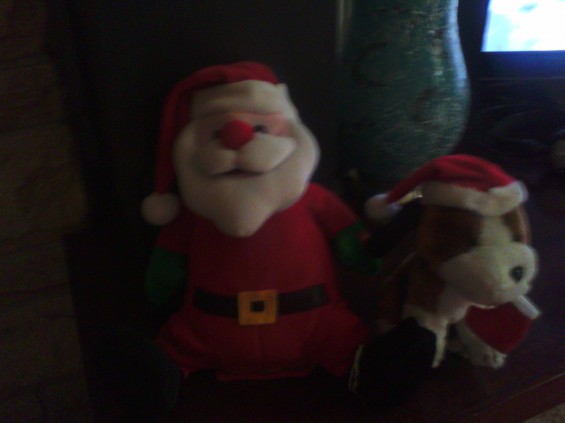 Photos taken on the Smart Tab 2 were really disappointing. Then again, for a low end 2 megapixel camera, they were never going to be able to compete with some of the other tablets out there.  It would have been better not to include a camera on this at all instead of putting in one with such low resolution and poor quality lens.
The outdoor photos lack any focus and the white areas just jump out and take over from the rest of the image. The indoor photos weren't much better. This was mainly due to it having no LED flash, so the final image is dark and blurred.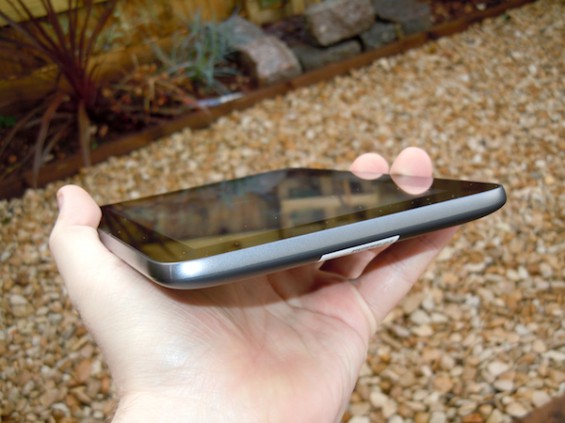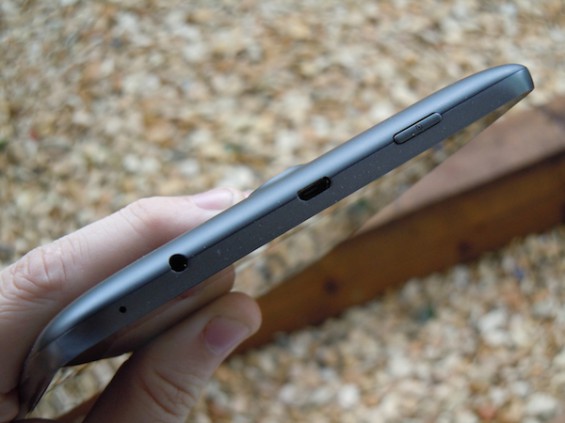 The 3.5mm headset jack sits up top, as does the now-standard Micro USB port for plugging in the charger included in the box (or if you did lose it you can use any other due to this port being used on so many devices now). The On/Off button puts the tablet into standby mode or, if held, turns it off to save battery life.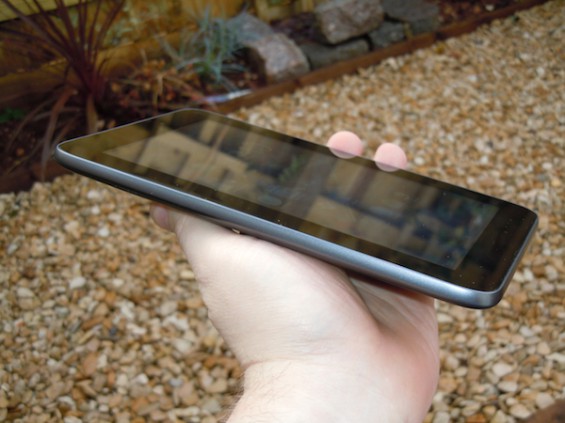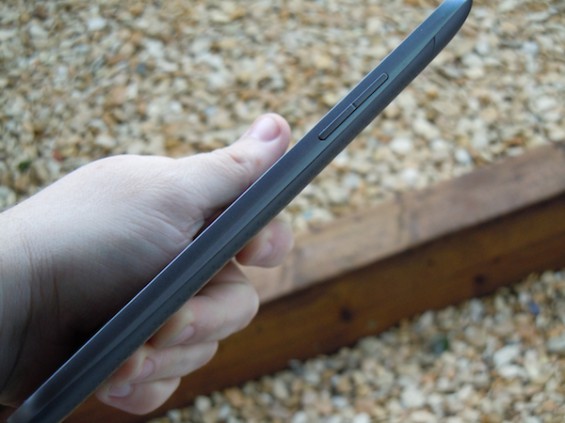 The left hand side of the device is blank with no buttons present at all.
The right hand side has the volume up and down keys which also can be used to put the tablet into a silent mode if you needed.  As expected there is no dedicated camera button for taking photos.
Final Thoughts
There are so many tablets out there already. In order to have a stand-out product, you need something special, even if you're aiming at the lower end of the market. With the Smart Tab 2 priced around the same as the Google Nexus 7 (which has sold millions around the world), the Tab 2 was already facing a tough job of competing.
Unfortunately the Smart Tab 2 failed to impress in nearly every area during testing.
The display needed to be looked at straight on, viewing from any other angle gave a really horrible white washed-out experience and the camera was unusable.  Far too many times a single tap would not do the job and I'd have to mash the screen several times for it to register what I wanted it to do.
Having Android on the tablet was great as there were thousands of applications available to install, it is just a real shame the hardware did not match the expectations.
When I used NetFlix the video would often lock up for a few seconds before starting again. This was not down to network, it was almost like the tablet was just not powerful enough to stream a video.
Battery was just about enough to get it through a day of use, the main problem is to get any decent screen the back light needed to be boosted up to near highest setting and this had a big knock on effect with overall battery life.
If you really do need 3G in a tablet and £150 is your maximum then it might be worth considering, but if you can get away with just WiFi (and use a MiFi), for an extra £9 you can get a Nexus 7. This has superior hardware plus the latest version of Android and a there's a big improvement in reliability and experience