Samsung have today announced a rather strange new device. I say strange because of a few of the spec choices.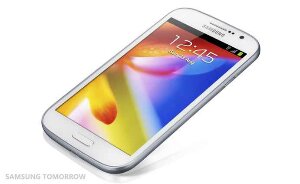 Design wise the Galaxy Grand looks an awful lot like the Galaxy Note II. Spec wise it's a whole different story. It is a similar story to the Galaxy SIII Mini with drastically reduced specs and also Samsung have made no mention of the price or the availability. If this thing comes out at £200 it might be success as many people no doubt want to try out the large screen device but just can't justify the large price. If it costs any more it may be cheaper to pickup an original Note instead.
Here are the announced specs.
CPU 1.2GHz Dual Core processor
Android 4.1.2
5.0'' display WVGA 800×480 resolution
8GB Internal Memory
1GB RAM
Battery 2100 mAh
Dual SIM model available
8 MP Rear Camera
2 MP Front Camera
Samsung have even made this nice graphic to show the specs as well.



Here is the press release from Samsung:
Samsung GALAXY Grand runs Android 4.1.2 (Jelly Bean), Google's latest operating system. Its vivid 5.0'' display provides an expansive viewing experience, presenting messaging, multimedia and Web content in brilliant color and clarity. Even with the large screen, the phone is still slim, ergonomic and comfortable to hold. You can also enjoy true multitasking running multiple apps simultaneously and without switching screens using Multi Window feature.

GALAXY Grand with an impressive 1.2 GHz Dual Core processor supports seamless multitasking, faster web browsing, lightning-fast screen transitions and superior graphics for some of the most demanding apps and games.

The GALAXY Grand sports a powerful camera with zero shutter-lag and ultra-quick camera start-up. It includes a backside illumination sensor to ensure clear shots even in dark conditions, as well as Full HD video recording.

Samsung GALAXY Grand also includes intuitive features that make the phone easy to use. For example, Direct Call enables users to automatically dial a call by raising the device up to the ear; while users can also shake the phone to trigger status updates, or pan it to zoom into a screen. Smart Alert shows missed events such as missed calls and new messages just by picking up the phone. Popup Video, for example, lets users watch video in a pop-up window anywhere on the screen while running other tasks; S Voice lets you control the phone using your voice; and AllShare Play lets you share content across Samsung devices using a single account.

The phone is pre-loaded with the latest versions of Samsung Hubs to deliver the most popular games, movies and music direct to the user on demand.

The GALAXY Grand will be available in two versions – The Dual SIM version (GT-I9082) will launch first and the single SIM version (GT-I9080) will follow. For the dual SIM version, its innovative dual SIM feature provides total communication flexibility, allowing users to manage two phone numbers from a single phone. It is possible to receive calls on one SIM number while taking a call from the other, ensuring efficient management of personal and work commitments without ever missing a call. Dual SIM also offers the flexibility of selecting different billing plans for either SIM, switching between them to make the most of cheaper call and data plans.
Source – Samsung