If you saw the disappointing news that the HTC Butterfly will not be heading to Europe after all, wipe those tears away as it looks like a version called the 'M7' is heading our way with some pretty impressive specifications.
If you are a tech fan on Twitter you might have seen the account @evleaks who often get hold of specs or images ahead of announcement and have been correct on a wide range of leaks already including confirming the Nexus 4 specs before they were official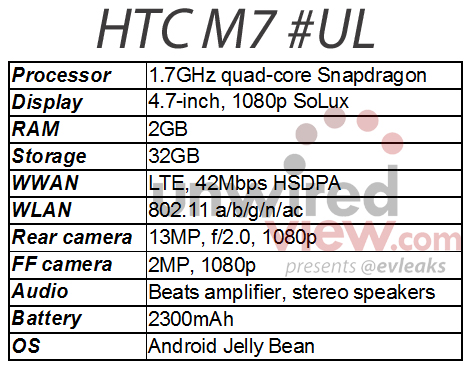 Looks like the specs are pretty impressive with a 4.7 inch 1080p resolution display and being powered by 2GB of RAM and a 1.7GHz Quad-Core processor with 32GB of storage thrown in.
Other specs are running Jelly Bean, a 13 megapixel outside camera with 2 megapixel front facing camera and a 2300mAh battery.
Looks like we are on for a Mobile World Congress announcement which kicks off near the end of February 2013 and we will be there live bringing you all the news and info as it happens!
Link: @evleaks