The HTC 8S was a phone I wanted to be good, REALLY REALLY good. I wanted it to be the phone that showed those LG Nexus 4 toting people that you didn't need a huge great quad core CPU or 2GB of RAM to have a damn good time. So does it live up to my expectations?
Not quite!
I've had the HTC 8S for about a week now and I've been using Windows Phone 8 since it came out so I've got a pretty good grasp of what is a realistic expectation of Windows Phone. During our Initial Impressions article a few features were instantly obvious and made it to the Good and Bad points list. Here is the updated version:
Good Points
Bargain price
MicroSD slot
Management of files and the MicroSD slot
Size means that it fits really well in the hand
Redesigned buttons compared to the HTC 8X
Overall design
Persistent WiFi
Bad Points
Screen quality means it gets covered in fingerprints, really quickly
Audio quality
Camera in low light
Internal memory soon runs out if used for games
Design
The HTC 8S is another great looking phone from HTC. I was worried at first that the 8S would look the part of a entry level device. Thankfully it doesn't, beside an 8X it really does look like a slightly smaller version of it.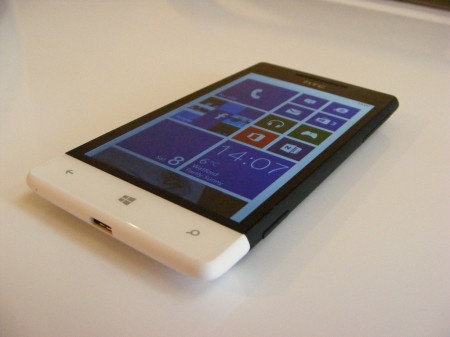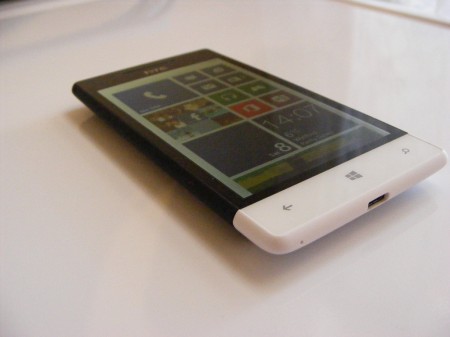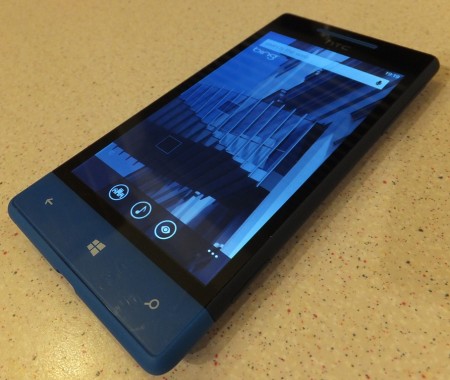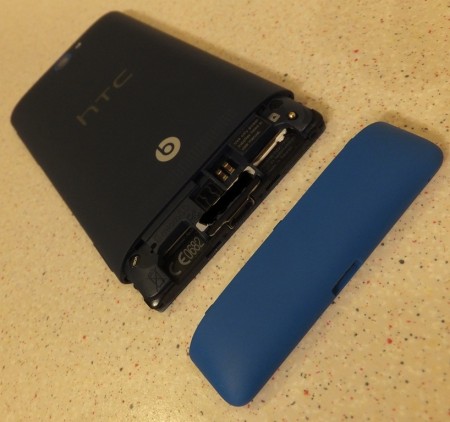 The soft touch polycarbonate HTC have used gives the 8S a great feel in the hand and dare I say it, the feel is better than the 8X. The ideal solution for any phone is to use it one handed, with HTCs insistence of putting power buttons on the top of their devices it makes turning the thing on hard. The bigger the phone the harder it is to turn on. With the 8X you can just about reach up to the top with an odd finger arrangement. The 8S is no worries at all, loosing that little bit of height improves the overall ergonomics.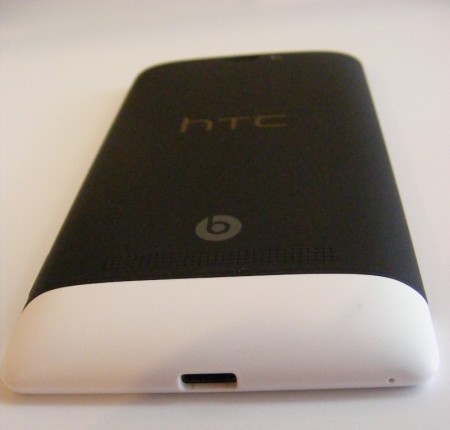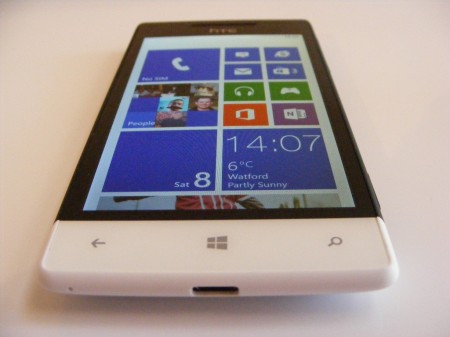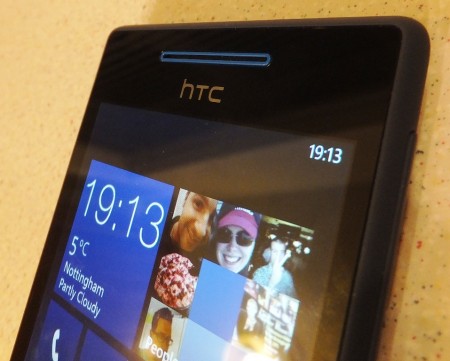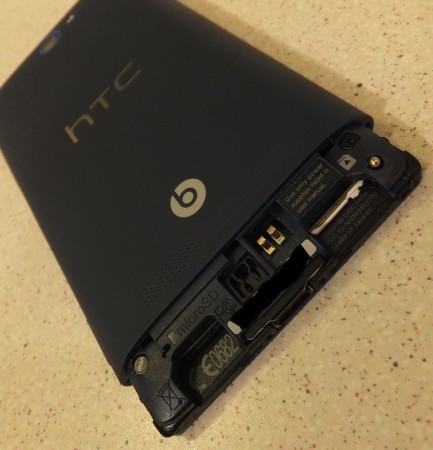 HTC have also used different buttons on the 8S compared to the 8X, at first they just looked like cheap plastic buttons, but they are actually a whole lot easier to feel for and press. Making fumbling in the dark for buttons a whole lot easier.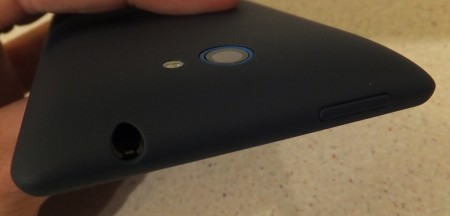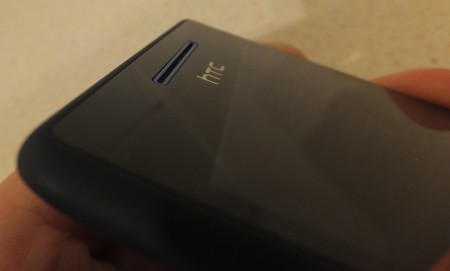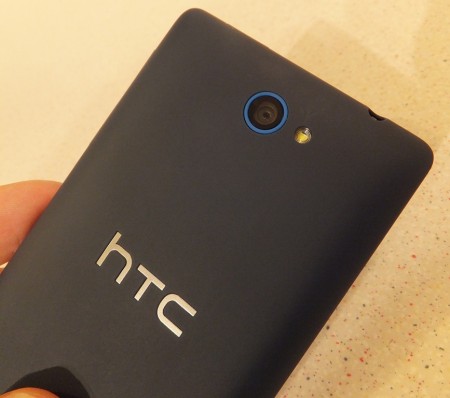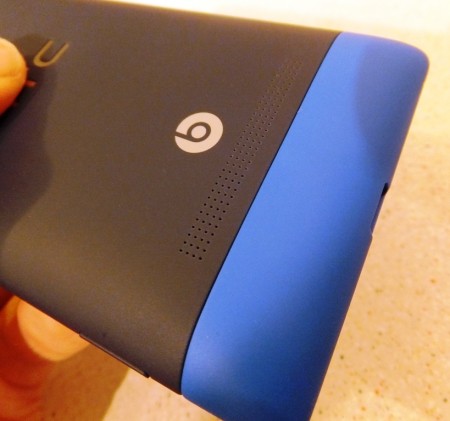 The screen on the 8S is an absolute fingerprint magnet. After most sessions using the 8S needs a good clean up. It is also really quite reflective.
Hardware
HTC had to cut corners somewhere and the internals of the 8S are a fair bit different to its stablemates. The 8S spec is as follows:
CPU – Qualcomm® S4 1 GHz, Dual-core
SIM card type – MicroSIM
Memory – Total storage: 4 GB ( 1.09GB available on first boot)
Expansion SD card slot supports micro SD memory card for additional storage (card not included)
RAM 512 MB
Network – GSM/GPRS/EDGE:  850/900/1800/1900 MHz2 HSPA/WCDMA:  Europe/Asia: 900/2100 MHz
GPS – Internal GPS antenna with GLONASS
Sensors – G-Sensor, Proximity sensor, Ambient light sensor
Connectivity – 3.5 mm stereo audio jack
Bluetooth® 3.1
Wi-Fi®: IEEE 802.11 b/g/n
Sound enhancement – Studio-quality sound with Beats Audio™ built in
Camera – 5 megapixel camera with auto focus LED flash, F2.8 aperture and 35mm lens 720p video recording
Multimedia – Audio supported formats: Playback:  Playback: .aac, .amr, .m4a, .mp3, .wav, .asf, .wma (verison 9 and 10) Recording:  .wav(w/OneNote)
Video – supported formats:Playback:  .3gp, .3g2, .mp4, m4v, asf, .wmv (version 9 and 10)  Recording: .mp4
Battery – Embeded & rechargeable Li-ion Polymer battery – Capacity:  1700 mAh
The CPU and the RAM are the main concerns here. In normal use you wouldn't really notice the lower CPU speed as Windows Phone 8 handles low spec devices really well. Meaning all transitions and swipes are done with as much flare as you'd expect. The RAM shortage does mean that multi tasking will be limited so switching from one big game to another may be a little problematic. In my normal day to day usage I couldn't really tell the difference between the 8X and the 8S. It's only when you start digging around in the OS and using a lot of apps simultaneously you'll notice anything. The internal memory can rapidly fill up if you don't use a memory card and also if you're going to install a lot of games. So beware.
There aren't many benchmarking apps for Windows Phone that actually work as they should. But Antutu exists and here are the results comparing it to the HTC 8X.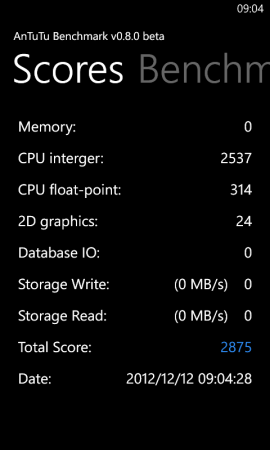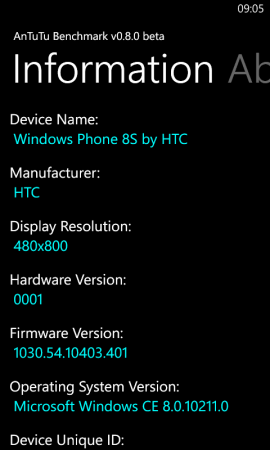 For comparison purposes here are the benchmarks for the HTC 8X. It looks like AnTuTu which is in Beta didn't fully work with the 8S as some results are zero.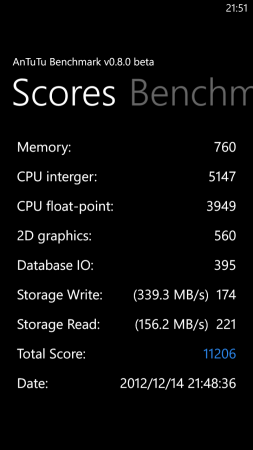 Software
Here is where some sites start bashing the whole Windows Phone Ecosystem and get a little off topic. I'm not going to do that, I've been using Windows Phone for years now and I'm used to the alternative way things are done. My main concern with the HTC 8S was how things would work with the lower spec. So I set about trying out as many different kinds of apps as possible. So a variety of Social Media apps, Multimedia apps, Games, Utilities and whatever else I could find. Every app you'd want to work, works. Even Netflix works without a fuss, everything from Metro Tube through to the Twabbit Beta. The only time I noticed anything untoward was fast resuming between two games. This is when the RAM just can't keep up and kills background apps off.
Windows Phone 8 on the HTC 8S is a newer version than any of the other WP8 devices out at the moment (apart from the 8X which has just been updated), which means it has the persistent WiFi connection fix included in the ROM. Which means that the 8S is a great phone for streaming music with a WiFi connection.
The 8S also has a few extra elements for handling the SD card. Basically when you first fit a memory card it asks what you would like to use it for. It will then automatically store either photos or music straight onto the card. Which means that precious internal memory will be spared for installing more apps on instead. Combine this with your SkyDrive Cloud storage and any initial concerns about the internal memory are put to rest.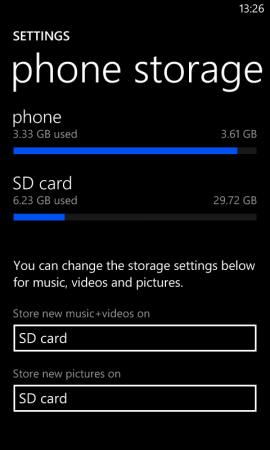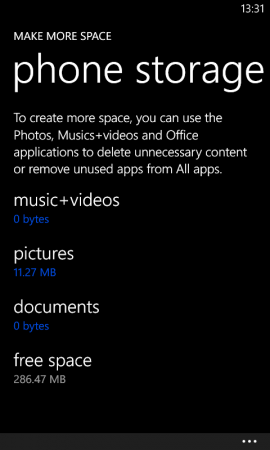 HTC have a few apps available on the Phone Store, nothing as useful or comprehensive as the Nokia offering, but useful nonetheless. The clock and weather tile is really really handy. The others are just ok. I would live it if HTC put a bit more effort into their apps. I really like Windows Phone 8 you know. Having seen it grow and develop over the years it's great to see it in it's current incarnation. My favourite element has to be the people hub. The contact management is unparalleled elsewhere the mobile OS arena. No doubt you'll disagree.
I feel I should mention the whole Windows Phone 8 ecosystem briefly. Yes there are quite a few big name developers notable by their absence from the Windows Phone Store. But for me I have always found an app for what I wanted. There is a common misconception about the app situation, yes some of the big name games developers seem to have to be bribed to get onboard and others never materialise. Windows Phone for me is a smartphone experience that is about more than apps. It is about making the core elements of a smartphone perfect and beautiful. I feel with Windows Phone 8 they are really damn close and HTC with the 8S seem to have captured that feeling.
Camera
A lot has been made of the superb cameras that come on the Nokia Lumia range. The cameras on the HTC range have a lot to live up to. The 8X camera is really good once you work out how best to use it. When I saw the camera on the 8S was only 5MP I was concerned. So I've took a few sample shots to show you what it can do. First of all a shot that shows the width of the lense.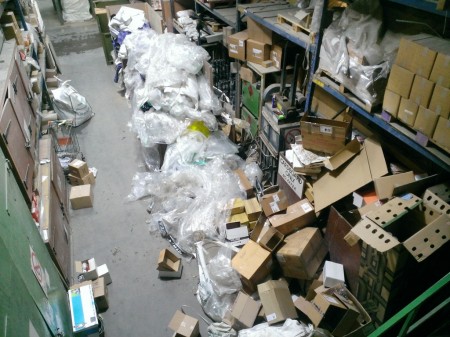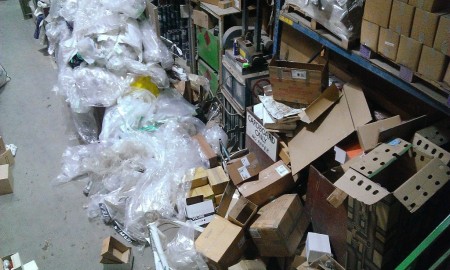 The top picture was taken with the 8X in the rubbish aisle in a warheouse at work and the bottom picture was took from the same spot with the 8S.
Again the top picture was took with the 8X and the bottom with the 8S.
In low light the 8S isn't the best, which is to be expected really as the 8S doesn't have any dedicated chips for imagery. Here are a few example shots anyway.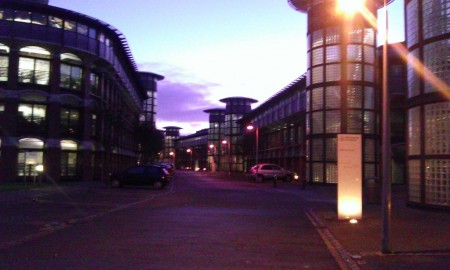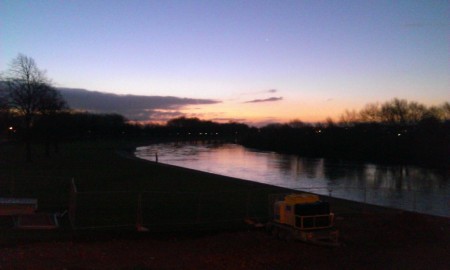 I also took a few shots whilst out and about with the 8S.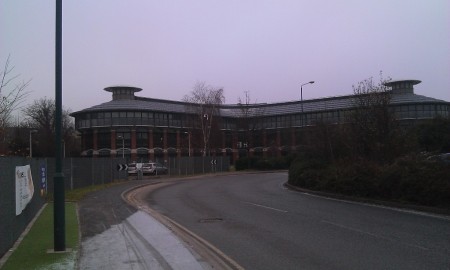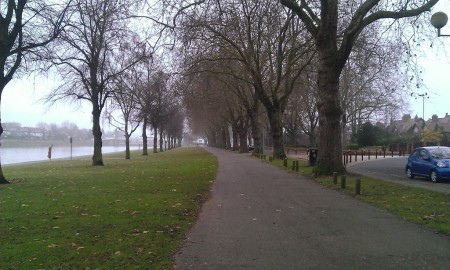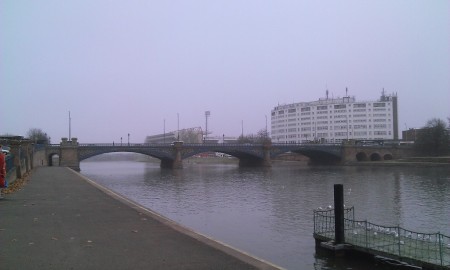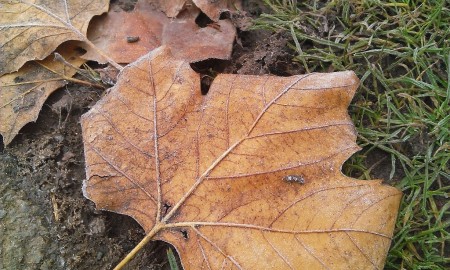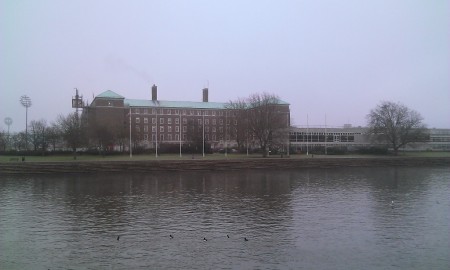 The camera overall isn't the best and it takes pretty noisy shots in low light. With some light the 8S takes acceptable photos and even managed a fairly nice up close shot or two. The camera app does have a bit of lag waiting for the camera to take the shot. I found the actual shutter button helped speed things up. The camera app on the 8S has a few settings and features which are common across Windows Phone 8. Microsoft made a lot of the Lense feature, when developers get behind this feature I'm sure the Windows Phone cameras will be a lot more functional.
Beats Audio
Having used the HTC 8X for a good few weeks now I know how great a device could sound. Upon plugging in some nice Sennheiser headphones I was hoping for something similar. I didn't get it though, what I got was ok, but not astounding, it just sounds like someone has turned up the bass on a basic graphic equalizer. It is really only on a par to normal phone audio. The speaker on the back though is pretty loud. I could easily listen to the radio using the rear speaker.
Conclusion
Overall I really liked the HTC 8S and I was glad I got to test it out. I feel the 8S is for two different target markets and it fits into them quite well. First of all you have the "I'd like to try Windows Phone 8" market and then the "I'd like something small and cheap ish" market. The pricing either SIM free or via a network both lend themselves to these markets. The 8S is quite versatile you can easily use it as many different specific uses and its lightweight frame really helps with that versatility.
There is a third market though and that is the cheap network contract customer who basically buys whatever they like the look of in the shop or website. With the current pricing with networks like Three I think HTC could be onto a winner as I think people will be pleasantly surprised with the 8S I know I was.
Lastly a great big "Thanks" to Clove.co.uk who lent us the 8S to review and if your interested in getting a SIM free HTC 8S then head over to this page here costing a mere £224.99.