At last – Samsung's first Windows Phone 8 smartphone!  The Samsung ATIV S  looks set to be available starting tomorrow (Friday 14thDecember) in the UK. Windows Phone obsessed website WPCentral has revealed that both Clove and Expansys in the UK will have stock of the new smartphone available to order tomorrow. Also it insists that, despite other sites spreading the rumour that that the ATIV S would turn up in February 2013, are wrong.
Despite being one of the first WP8 handsets announced, back in June (2012) at the IFA event, the Samsung ATIV S is one of the last to come to market, so the chances are, assuming you decided to go for a W8 handset, you when for something from of the other manufacturers.
Here's a quick refresher of the Samsung ATIV S main features:
Windows Phone 8
1.5GHz dual-core processor
4.8″ super AMOLED HD display
8MP camera with autofocus and LED flash
MicroSD slot
16GB internal storage
Wi-Fi & Wi-Fi Direct
DLNA
3.5mm port
Only 8.7mm thick and weighs in at 135g
2,300mAh Li-ion battery
Samsung ATIV Tab
Also becoming available from tomorrow we have the Samsung ATIV Tab. WPCentral notes that it is priced at £538.80 inClove's online store. This is Samsung's take on a Windows RT tablet, which unlike the Microsoft Surface should be available at all the usual electronics and computer retailers shortly. (However yesterday we had news that Microsoft is going to distribute the Surface outside of its own retailers) Samsung's Windows RT tablet features a 1.5GHz dual-core processor with 2GB RAM with a 10.1-inch screen, the full spec rundown is below:
Windows RT OS
1.5GHz dual-core processor
10.1″ HD LCD Display, 1366×768 pixels
5MP rear Camera, 1.9MP front facing camera
32GB (or 64GB) Internal Storage and MicroSD slot (up to 64GB)
S-GPS & GLONASS, Wi-Fi, NFC, Bluetooth 4.0 (no cellular data option)
MicroHDMI
USB Host
265.8 x 168.1 x 8.9mm, 570g
8,200mAh Li-ion battery
The Samsung ATIV Tab is a much more traditional looking tablet than the Microsoft Surface and is initially priced at £538.80 at Clove, as specified above with 32GB of flash storage. Since the 32GB Surface is quite a lot cheaper at £399 from the Microsoft UK online store I simply don't know, beyond styling considerations, why someone would buy this Samsung ATIV Tab instead.
Is anybody interested in purchasing one of the Samsung ATIV range?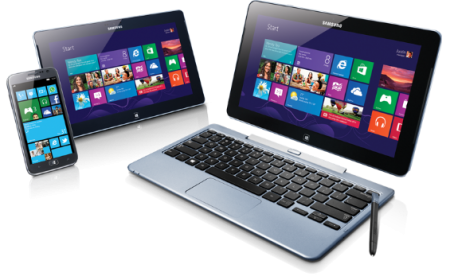 Link – Hexus