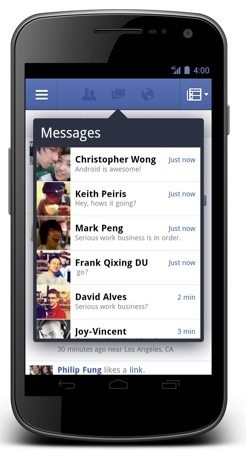 Use Facebook on your Android device? Now you can do so and it'll work faster than it did before.
The previous Facebook app was built on using HTML5 like a lot of apps this can be slow but now it's gone native. Going native on a platform opens up a world of improvements and speed is one of them. Let's be honest, the Android Facebook app has always been dog slow until now.
Facebook have noted on their blog the other improvements that have been added. We'll not try to dwell on the fact that they keep calling the Google Play store by it's old name – Android Market.
The improvements include…
Photos get better

Photos and albums are up to two times faster than the previous Android app. It's also easier to share photos, view comments and edit captions on the go. View photos with tags, comments and likes

Messages on top
Your messages and notifications are now at the top of your screen. You can respond to friends and stay updated without leaving the page you're on. Get notifications and messages at the top of every screen

Menu on the side
You can quickly access your News Feed, Groups, games and apps from the new left-hand menu. The features you use most are now at your fingertips. Use the left-hand menu to get around

Get the App
Facebook for Android is available on Android Market. We're excited about the new app, and we hope you check it out.
Download it from the Play Store, have a fiddle and let us know what you think.
Link – Google Play
Via – Mashable