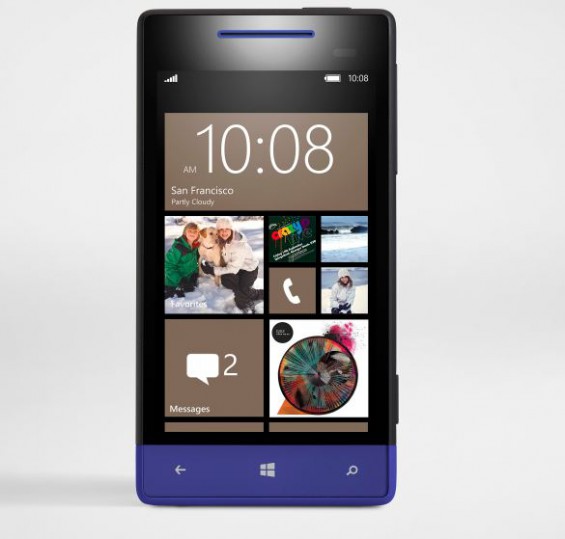 Another Windows Phone for you this Friday morning – the Windows Phone 8S by HTC. It's now available to grab in Three stores and online. The 8S has a 4″ screen, 5 megapixel camera, dual-core 1GHz CPU and, of course, runs the new Windows Phone 8 OS. It has 4GB of storage with a microSD card slot, GPS, 3.5mm audio port, Bluetooth 3.1, WiFi, sensors and a 1700mAh battery.
Inside you also get the Beats Audio technology for making those tunes sound exactly as the artist intended, and Three are offering it for free on plans costing just £17 per month on the Essential Internet 100 plan. That'll give you 5000 texts, 100 anytime minutes and 250MB of internet without the surprise of out-of-bundle charges. If you pay £19 per month then you get the phone free but on the Ultimate Internet 100 plan you'll get all-you-can-eat data with those 100 minutes and 5000 texts.
If you're looking to go Pay As You Go then it'll cost £179.99 (we're not sure why the press release says more) plus a top-up. As an example, the All in One 15 is £15 and that'll give you 30 days of all-you-can-eat data, 300 minutes and 3000 texts. Here's the Pay As You Go link.
Want to know more about this handset ? We'll have our first impressions very soon indeed. Don't forget to follow us on Twitter or grab our feed to get the latest news.
Click on for the full details…
Link – Windows Phone 8S on Three
Windows Phone 8S by HTC – available now on Three.

The Windows Phone 8S by HTC is now available online at www.three.co.uk and in all Three stores.

Packed with great features that make everyday tasks easier and more enjoyable, the 8S comes with a 5 megapixel camera which means you're always ready to capture special moments, a 1 GHz dual-core processor making browsing and switching between apps a breeze and built in Beats Audio™ technology so you can enjoy the most authentic sound no matter if you're listening to music, playing a game or watching a video.

The stylish, compact 8S runs on the Windows Phone 8 operating system and includes the very latest features such as personalised Live Tiles on the vibrant 4" screen plus access to over 100,000 apps through the Windows Phone Store.

Sylvia Chind, Head of Devices at Three said, "The 8S offers great all-round performance and coupled with our straightforward and affordable plans with no surprise-out of-bundle data charges, you'll be able to enjoy the best experience on Three".

The Windows Phone 8S by HTC is available for £19 a month with no upfront cost on the Ultimate Internet 100 plan and for £17 a month with no upfront cost on the Essential Internet 100 plan – both with a guarantee of no surprise out-of-bundle data charges.

The device is also available on Pay As You Go for £219.99 plus a top up. All in One 15 costs £15 and gives 30-day access to all-you-can-eat data along with 300 any-network minutes and 3,000 texts. Or All in One 25 costs £25 and offers 500 minutes, 3,000 texts and all-you-can-eat data for a 30-day period.

Key features

Beats Audio™ technology
Amazing 5 megapixel camera
Windows Phone 8 software
Up to 4GB internal memory
1 GHz dual-core processor