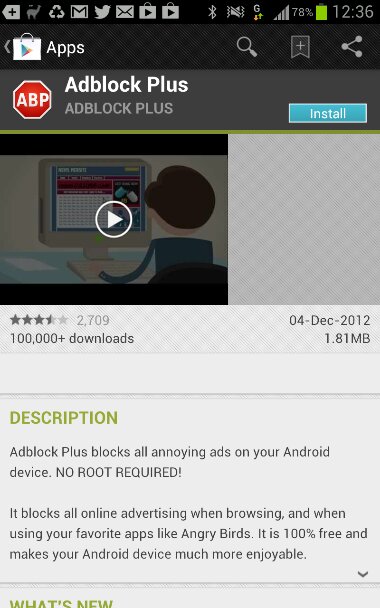 We received an email from the developer of this app just yesterday and weren't entirely sure what to do.
As you'll no doubt be aware, this site is funded by advertising. The same can be said for the many thousands of "free" apps in the Google Play store. Ads pop up while you're using the application or game. Sure, some are worse than others. Some apps take over your notification system and they're constantly popping up to tell you about some annoying offer or deal you're not really interested in.
In that sense, I can understand some people wanting to install Adblock Plus. However, the developers of this product say..
It blocks all online advertising when browsing, and when using your favorite apps like Angry Birds. It is 100% free and makes your Android device much more enjoyable.
Great, but what if everyone installed this app and Angry Birds developers Rovio suddenly lost their advertising revenue? Like us, they wouldn't be able to operate. Developers would have to start charging for more apps and games. If this app gets used widely then you'd begin to see a big decline in ad-supported apps on Google Play.
Please, if you like the free game you're playing and there's a "paid" version, upgrade. If you're a regular user of a site like ours, please don't block the ads. They keep us online.
Link –  Google Play