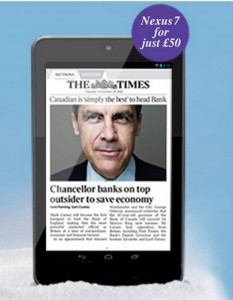 The Nexus 7 is without a doubt one the best tablets on the market and at prices starting from £159 its also quite the bargain. The Times UK are currently running a promotion where if you subscribe to the digital version of the newspaper for a year, they will give you a 32gb Nexus 7 for effectively £50. This is probably a good deal for anyone who is looking to buy both of these things separately as you'll save quite a few spondoolics (£212)
There's a catch though and be honest, you knew it was coming. Heres how it essentially breaks down. You can pay a bundle price of £299 which will give you a 32gb Nexus 7 and 18 months of access to the Times "Digital Pack". Alternatively you can pay £67.33 which is for the Nexus 7 and your first month subscription and then 18 months of £17.33. 
Obviously terms and conditions apply but if this is something you were already in the market for then this could work out quite well.
Full details are available at The Times